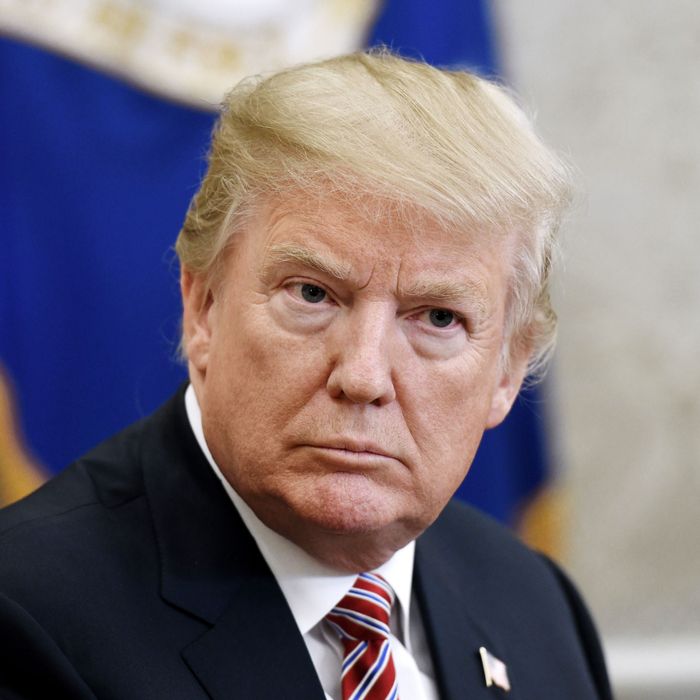 Trump.
Photo: Olivier Douliery/Getty Images
Yesterday, the president of the United States, Donald Drumpf, met with members of the video-game industry and its critics as part of a smoke-screen effort to blame mass shootings on anything besides the obscene proliferation of firearms in this country. Like pretty much every meeting Trump has with the business world, it was mostly uneventful. Kotaku reports that the hour-long meeting ended "without any sort of conclusive outcome."
In attendance were executives from the industry and its governing body, the Electronic Software Association. Strauss Zelnick, CEO of Grand Theft Auto maker Take-Two Interactive was in attendance, as was Robert Altman, the CEO of Fallout maker ZeniMax (Trump's brother sits on ZeniMax's board). On the other side of the table were reps from anti–video game organizations like the Parents Television Council and the Media Research Center. Also in attendance were Senator Marco Rubio and Representatives Vicky Hartzler and Martha Roby, all Republicans.
The meeting ended with pretty much every party, save for the actual game makers, releasing unsurprising statements that reiterate their stance.
The White House said:
During today's meeting, the group spoke with the President about the effect that violent video games have on our youth, especially young males. The President acknowledged some studies have indicated there is a correlation between video game violence and real violence. The conversation centered on whether violent video games, including games that graphically simulate killing, desensitize our community to violence.
While the ESA said, via Kotaku:
We welcomed the opportunity today to meet with the President and other elected officials at the White House. We discussed the numerous scientific studies establishing that there is no connection between video games and violence, First Amendment protection of video games, and how our industry's rating system effectively helps parents make informed entertainment choices. We appreciate the President's receptive and comprehensive approach to this discussion.
So, not a whole lot going on here.
Perhaps the oddest part of the whole interaction was a compilation of violent clips compiled straight from YouTube. The segment included clips from Wolfenstein, Call of Duty: Modern Warfare 2 (including the infamous "No Russian" level), Fallout 4, and Dead by Daylight.
The Dead by Daylight clips came from a user named Dat360NoScope, which means that President Trump watched a YouTube kills compilation made by Dat360NoScope (a "360 no scope" refers to spinning around 360 degrees and shooting an opponent with a sniper rifle without the aid of the gun's scope).
Some users encouraged the gamer to file a copyright takedown notice against the government.
Going forward, you probably won't see any effort by the government to regulate video games, which fall under First Amendment protections. "The president encouraged [game developers] to explore things they can do on their own to make things healthier in society," Media Research Center president Brent Bozell told the Verge, "and that's where it was left."