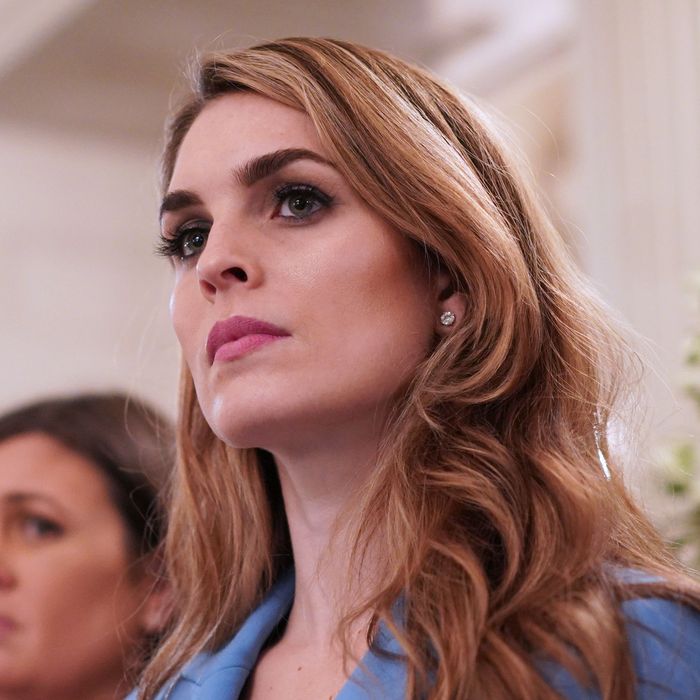 It wasn't the Rob Porter scandal, or even the Russia probe that sparked her exit.
Photo: MANDEL NGAN/AFP/Getty Images
Hope Hicks entered American politics at its fringes, in the early stages of Donald Trump's presidential campaign, a grinning 26-year-old member of the Trump Organization's public-relations team who'd been rerouted from her task of helping Ivanka Trump develop a lifestyle brand. Three years later, at 29 years old, she exits from the West Wing with a life that's bigger now but, in painful ways, much smaller than it was; as thoroughly transformed as American politics itself.
On Wednesday, the New York Times broke the news that Hicks will be resigning as the White House communications director, the 13th prominent White House official to leave during the first 13 months of the administration. But Hicks is unlike the other 12; a figure of such singular importance to the president that two sources close to him speculated — separately — to New York that she may outrank Ivanka, his own daughter.
Life at Trump's side was always complicated for Hicks, but her decision came at an unusually riotous time, after the Russia investigations coaxed her into view throughout the fall and winter, and the destruction of her new relationship collided with the country's national security in the most public way, inviting questions about her personal and professional judgement. A silly tabloid story about Hicks dating another member of the White House staff, Rob Porter, quickly transformed into a serious tabloid story about allegations of physical abuse against Porter from both of his ex-wives. As the White House struggled to get its story straight (an ongoing struggle), Hicks was quickly identified as the reason for initial statements that leapt to Porter's defense. Four senior White House officials told New York that Hicks did not draft a statement from Chief of Staff John Kelly that defended Porter describing him as "a man of true integrity and honor." In this telling, Kelly dictated an initial version of the statement during a meeting in which Hicks was present, but did not discuss it with her; exactly how different that drafted statement was from what appeared in the Daily Mail remains an outstanding question.
In her suddenly weakened position, Hicks became a target of the very sort of palace intrigue she had worked to float above even as it violently submerged everyone around her on the campaign and in the White House. Various reports claimed Trump believed her judgment was compromised by her relationship with Porter, that she'd put the interests of her boyfriend over his own. On the record, White House officials say this is untrue. Asked to explain the reports to the contrary, the press secretary, Sarah Huckabee Sanders, told New York, "I mean, you can probably answer that better than I can, because you're the one that actually talks to those people. I mean, I don't know who they are. The anonymous sources, I don't know who those people are or why they would have an ax to grind. But, I can say that I have spent probably as much time as just about anyone around the president, and watched his interactions with Hope, and that's just not accurate."
Hogan Gidley, a special assistant to the president and deputy press secretary, told New York during an interview shortly before Hicks resigned, "I think people are petty, people are insecure, people are jealous of what she has … Forget the fact that the White House receives 93 percent negative news coverage, whatever the latest poll was. Forget that of that 93 percent, 80 percent is palace-intrigue nonsense. A lot of that is directed at her. Lately, often, from the beginning of the campaign to now. She gets a lot of incoming directed at her."
In the investigations by Special Counsel Robert Mueller and the House and Senate Intelligence Committees into matters involving Russia and the election that brought Hicks to Washington last January, she is of acute interest: The special counsel interviewed her in December and she recently appeared in front of the Senate Intel Committee. Hicks's resignation directly followed eight hours of testimony on Tuesday before the House Intel Committee, where she said she sometimes told white lies on behalf of Trump, an admission that made worldwide news. It also followed the resignation of Josh Raffel — a spokesperson for Ivanka and her husband, Jared Kushner — whom Hicks considers her best friend.
"It's just very hard when you know you're trusted by a unique principal and you don't necessarily know that you can trust anybody," a source close to Hicks told New York, referring to her relationship with the president.
The source went on: "And then it's been shown that there are others that have come to the table with their own agenda — it makes it even more isolating. I think that's one of the reasons why it was really helpful for her to have Josh there, because he was someone she knew 100 percent that she could trust."
And why would Hicks stay in a place where she didn't know who she could trust for so long? "Once you're in, you're in," the source said shortly before Hicks's resignation, "I think that's the way she looks at it. I think he depends on her so much that she views it like it would be abandoning the cause — not even abandoning the cause, I think it's abandoning him." But after years of sacrificing her needs in order to give to someone else, Hicks began to feel consumed by her loneliness and existential questions about her priorities in life. The stillness of Washington didn't help; on the campaign, at least, constant motion acted to keep such creeping thoughts at bay. Finally, she felt that she couldn't pull it off any longer—or that the cost of trying to wouldn't be worth it in the end.
The source added that the White House was a less complex emotional endeavor for Raffel, a Democrat who entered with a specific set of responsibilities. Hicks, meanwhile, was never going to be able to make a clean break. The source said that she wanted to leave when she was far enough removed from her own scandals that scandal wouldn't be the obvious explanation for leaving. "You don't abandon somebody in a time of crisis," the source said. But what if the crisis never ends?