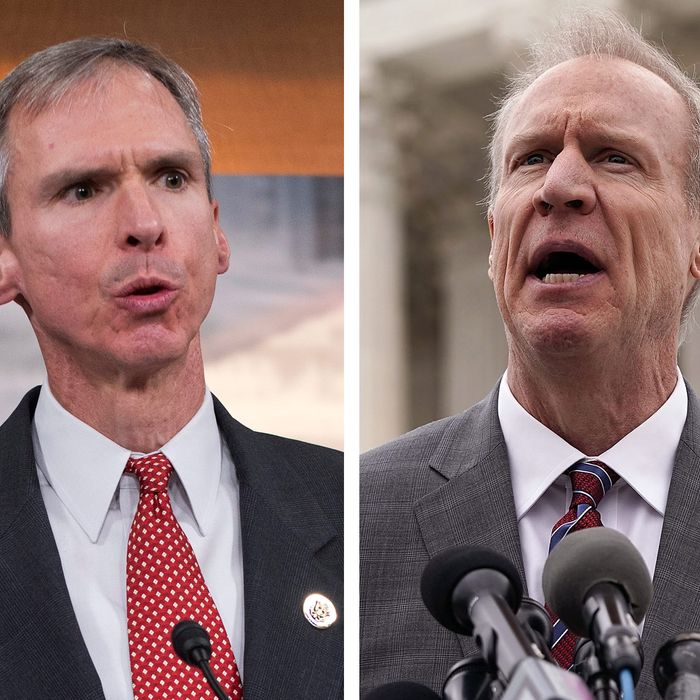 Democratic congressman Dan Lipinski and Republican governor Bruce Rauner are badly out of step with their parties on abortion.
Photo: Tom Williams/CQ-Roll Call; Alex Wong/Getty Images
Tuesday's primary elections in Illinois encompass an insanely expensive governor's race and several competitive congressional contests. There is, however, more than a little malaise surrounding politics in this famously machine-run and often corrupt state. But it's hard to discern before the results are in whether the sour mood will aid insurgents or simply suppress turnout to the point that the favorites will steer clear of trouble.
Beneath the heavy clouds of money dominating the Illinois primaries there are at least two contests where mirror-image conflicts over abortion policy are attracting passionate attention.
In the Democratic race for the party's nomination in Chicago's third congressional district, incumbent Dan Lipinski is in serious danger of losing to first-time candidate Marie Newman thanks in no small part to his long-standing record of opposing abortion rights (Lipinski has also voted against his party on other issues, including the Affordable Care Act and the DREAM Act). While the House Democratic leadership has dutifully gotten behind Lipinski despite his heresies, many local progressives — including two of Lipinski's House colleagues from Chicago and notable alumni of the Obama campaigns and White House — have endorsed Newman, who is also getting significant material help from pro-choice groups.
All signs — including the closest thing we have to an independent public poll, taken for NARAL by Public Policy Polling at the end of February — show a very close Lipinski/Newman race. Despite the Democratic enemies he's made, he's been endorsed by the state and local branches of the AFL-CIO (though SEIU has endorsed Newman), and there's a dynastic factor, too: Lipinski's father represented the district before he all but deeded it to his son. A wild card is the possibility that some anti-abortion Republicans might vote in the Democratic primary to save Lipinski (as they can under the state's open-primary system); that's exactly what National Review is encouraging conservative voters in the district to do.
But anti-abortion voters in both parties may be torn, since pro-choice Republican governor Bruce Rauner is also facing a serious primary challenge from state legislator Jeanne Ives, who has made Rauner's flip-flop on an abortion-funding bill the great symbol of his ideological infidelity. Ives is being backed not only by National Review and the anti-abortion group the Susan B. Anthony List, but by an assortment of her fellow Republican state legislators. The very limited public polling of this primary shows Rauner comfortably ahead (by a 51/31 margin according to a Southern Illinois University poll in late February), and he's mostly focused on his potential general-election opponents. Anyone, however, who remembers the long recent history of cultural conservatives defeating moderates in GOP primaries would be reluctant to write Ives off.
But Rauner is trying hard to drown his opponents in both parties in a sea of money. A venture capitalist and private-equity manager before entering politics in 2014, Rauner has contributed an estimated $5o million to his own campaign, and has run $16.5 million in TV ads (as compared to $2.8 million for Ives) during the primary season. He's received another $20 million from billionaire backer Ken Griffin.
If everything tomorrow goes as generally expected, though, Rauner will face a general-election opponent with even deeper pockets than his own. The Democratic gubernatorial front-runner throughout the campaign has been billionaire J.B. Pritzker, another venture capitalist from one of America's wealthiest families. Pritzker has sunk $70 million into his own campaign so far. But he's struggled to put away his two main primary rivals, progressive state legislator Daniel Biss and businessman (and Robert F. Kennedy's son) Chris Kennedy.
Aside from regular poundings he's received from both primary opponents and from Rauner, Pritzker has been targeted by the Chicago Tribune with investigative reporting that has highlighted his family's offshore holdings and his links to the twin symbols of Democratic machine politics in the state, imprisoned former governor Rod Blagojevich and state House speaker (and Democratic party chair) Mike Madigan. At one point in the primary battle, it looked like Biss was overtaking both Pritzker and Kennedy by running to their left; he was endorsed by MoveOn, Our Revolution (the Berniecrat organization), and National Nurses United.
The race remains close enough that Pritzker hasn't yet put it away; Biss is relying on grassroots enthusiasm for his candidacy, while Kennedy is banking heavily on winning undecided African-American voters via attacks on Chicago's gentrification trends. Some Democrats remain fearful that the Tribune and Rauner's campaign have dirt on Pritzker that will destroy him in a general election, though at the moment he leads the incumbent in polls by a comfortable margin.
If Pritzker and Rauner both win their primaries, it seems certain the general election will surpass California's legendary 2010 contest between Jerry Brown and Meg Whitman as the most expensive gubernatorial campaign in history.
Aside from the marquee races, there are several other primaries in Illinois that are of more than purely local interest.
* With Chicago's progressive congressman Luis Gutiérrez unexpectedly retiring this year, his natural successor (and the incumbent's endorsee) is 2015 mayoral candidate Jesús "Chuy" García, though affordable-housing activist Sol Flores is making some serious waves in the contest.
*Emily's List is trying to add to its impressive performance in the Texas Democratic primary earlier this month by backing strong candidates in the 13th and 14th Congressional Districts of Illinois, where Republican incumbents are vulnerable. In the downstate 13th, Betsy Londrigan, a former aide to Senator Dick Durbin, is in a close race against Erik Jones, an ally of Illinois attorney general Lisa Madigan. And in the Chicago exurban 14th, Lauren Underwood, a nurse and former senior adviser at the Department of Health and Human Services, is in a close primary competition with a local small-town mayor.
* There's a highly competitive GOP congressional primary in the Chicago suburban 10th District, which flipped to Democratic candidate Brad Schneider in 2016. Self-funding physician Sapan Shah and former AIPAC staffer Jeremy Wynes are the front-runners for a chance to reclaim a House seat long held by moderate Republicans.
On top of the congressional races, the retirement of longtime Attorney General Lisa Madigan has created an intriguing eight-candidate Democratic primary featuring former governor Pat Quinn, who was defeated by Bruce Rauner in 2014. In a late poll, Quinn had a narrow lead over State Senator Kwame Raoul.
Turnout is typically low in Illinois midterm primaries. But early voting this year was up sharply. It's unclear now whether that's the product of greater enthusiasm, more competitive races, or all the campaign spending. If despite all the infighting and dyspeptic rhetoric surrounding the Democratic primaries, the Donkey Party in the Land of Lincoln comes out of the primaries with high spirits, it will be another sign of a potential wave that sweeps aside all sorts of local barricades.