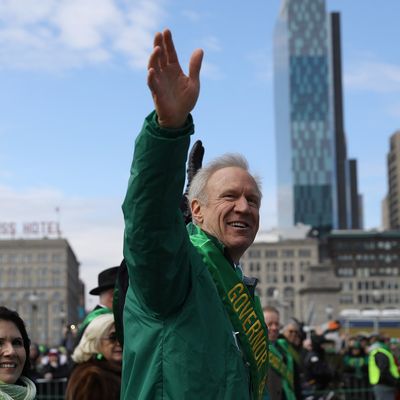 Governor Bruce Rauner narrowly avoided humiliation on Tuesday night.
Photo: Abel Uribe/TNS via Getty Images
Tuesday's Illinois primary offered one marquee congressional race that matched an old-fashioned Chicago machine pol against someone who better reflected the wave of the Democratic present and future. It also featured gubernatorial primaries in both parties, where two of the biggest spenders in the country faced energetic underdogs.
Though there was considerable suspense in the early counting, it looks like the old-school Chicago Democrat, Representative Dan Lipinski, defeated progressive business consultant Marie Newman by an eyelash in the state's Third Congressional District. Both candidates had some outside help from organizations on both sides of the abortion issue, though the incumbent may have benefited more from crossover voting by anti-abortion activists in this open primary state. Republicans in the Third District have the embarrassment of going into the general election with an open racist and Holocaust denier, Art Jones, carrying their banner. Jones ran unopposed in the GOP primary.
On the Democratic side of the insanely expensive gubernatorial race, billionaire J.B. Pritzker handily dispatched progressive state legislator Daniel Biss and political scion Chris Kennedy, who neatly split the anti-Pritzker vote. Pritzker, heir to a family fortune that includes ownership of the Hyatt Hotel chain, has invested around $70 million into his campaign.
On the Republican side, the AP called the race for incumbent Governor Bruce Rauner over conservative opponent Jeanne Ives. Despite putting $50 million of his own money into his campaign, it appears Rauner beat the underfunded Ives by a very small margin (there is still a bit of doubt about the final numbers because of vote-counting problems in Ives's home county, DuPage). Rauner clearly underestimated Ives, who made a lot of hay out of the pro-choice governor's decision to sign legislation expanding public financing of abortions. The challenger also got a boost from devious ads from the Democratic Governors' Association calling her too conservative for Illinois (an effort to help her against Rauner).
A Prizker-Rauner general election is very likely to become the most expensive gubernatorial contest in U.S. history, and a nasty one as well. Pritzker will try to tie his Republican opponent to Donald Trump, while Rauner will make Pritzker out to be a puppet of state Democratic Party chairman and Illinois House speaker Mike Madigan, a figure nearly as unpopular as Trump. Pritzker leads in the early polling.
In other contests, Emily's List had, as expected, a very successful evening in Democratic congressional primaries, with former Dick Durbin aide Betsy Dirksen Londrigan defeating Erik Jones in the 13th District (she will face incumbent Rodney Davis in November), and former Department of Health and Human Services official Lauren Underwood demolishing six opponents in the 14th District (Representative Randy Hultgren is her general election opponent). In the 10th District, where Republicans hope to reclaim a seat they lost to Democrat Brad Schneider in 2016, social conservative Doug Bennett and former AIPAC staffer Jeremy Wynes are locked in a close race with a handful of precincts still out.
Finally, in the attorney general's race among Democrats, state legislator Kwame Raoul is holding a probably insurmountable lead over former governor Pat Quinn.
While turnout was generally poor (as is usually the case in Illinois midterm elections) Democrats held a considerable turnout advantage that may matter in November. It looks like Rauner got about the same number of votes as second-place Democratic gubernatorial candidate Daniel Biss.