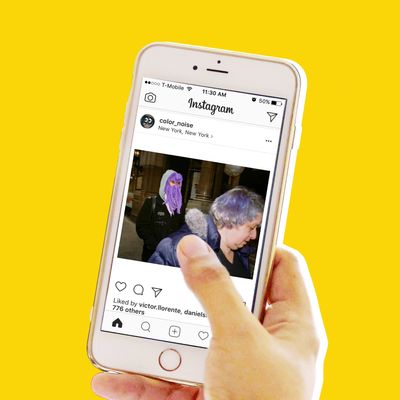 Photo: Manan Vatsyayana/AFP/Getty Images
Ever since Instagram changed from a chronological feed to an algorithmic one, people have been demanding that the platform change back to the way things were. Folks, this is not happening. In case that rumor earlier this month got your hopes up, let me say it again: Instagram is sticking with its algorithm; you are not getting a feed sorted by the order photos were posted. As something of a consolation prize, Instagram announced that it is testing a new feed-related feature on Thursday that will let users manually choose when their feeds update. The company also said that it is "making changes to ensure that newer posts are more likely to appear first in feed." Kind of like, well, a chronological feed.
From Instagram:
We've heard it can feel unexpected when your feed refreshes and automatically bumps you to the top. So today we're testing a "New Posts" button that lets you choose when you want to refresh, rather than it happening automatically. Tap the button and you'll be taken to new posts at the top of feed — don't tap, and you'll stay where you are. We hope this makes browsing Instagram much more enjoyable.
Which, sure, thank you, Instagram. It is annoying when my feed jumps while I'm in the middle of reading a caption, and then can't for the life of me and all the scrolling in the world seem to find that photo again. But, also, you know was else is annoying? The algorithmic feed. Reverting to the chronological feed would also "ensure newer posts are more likely to appear first in feed." Just a thought.