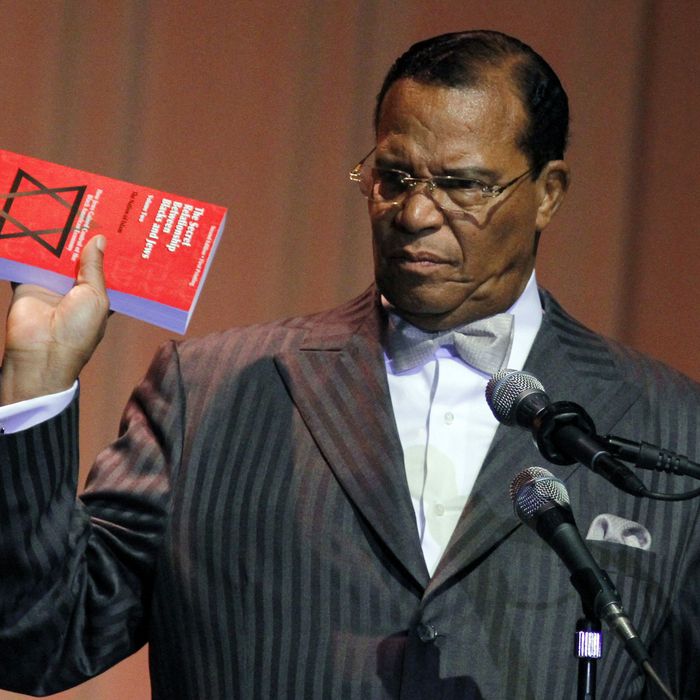 Louis Farrakhan displays the book, "The Secret Relationship Between Blacks and Jews," during his speech at Jackson State University in Jackson, Miss.
Photo: Rogelio V. Solis/AP/REX/Shutterstock
Two weeks ago, during a Saviours' Day event to commemorate the life of Nation of Islam founder Master Fard Muhammad, Louis Farrakhan had some things to say about Jews. The "powerful Jews," he told the audience inside Wintrust Arena in Chicago, "are my enemy." The Jews are also "responsible for all of this filth and degenerate behavior that Hollywood is putting out turning men into women and women into men" — that is, for the existence of transgender people, which Farrakhan apparently views as a pressing moral concern. He issued a warning to a subset of the Jewish community — "Farrakhan has pulled the cover off the eyes of the Satanic Jew and I'm here to say your time is up, your world is through. You good Jews better separate because the satanic ones will take you to hell with them because that's where they are headed."
Under normal circumstances, sadly, none of this would come as a surprise. As the Anti-Defamation League and plenty of other organizations have amply documented, Farrakhan has been a hardened anti-Semite — not to mention a committed enemy of LGBT rights — for a long time, and the broader Nation of Islam movement has a longstanding problem with anti-Semitism (as the ADL noted, Farrakhan was not the only speaker to make wildly offensive remarks about Jews that day). This is a man who has described Adolf Hitler as a "very great man."
What made this address different was one of the attendees: Tamika D. Mallory, co-president of the successful Women's March organization that has served as an important part of the anti-Trump resistance movement ever since it was formed. During the portion of his speech not dedicated to recycling ages-old anti-Semitic conspiracy theories, Farrakhan explicitly praised both the March and Mallory herself. Mallory posted an Instagram video of herself at the event, and previously had posted a photo of herself with Farrakhan describing him as the "GOAT," or "greatest of all time."
Once Mallory's attendance at the event was revealed, she was repeatedly asked to denounce Farrakhan's rhetoric, and she declined to do so. When she addressed the controversy, she did so vaguely. In one tweet, she did denounce anti-Semitism and transphobia without explicitly mentioning Farrakhan; in another, she made the dispute out to be some sort of thorny moral dilemma entailing "nuance & complexities."
The Women's March followed a similar tack: not really addressing the controversy head-on at all. Yesterday, a full nine days after the controversy broke out, it finally posted a statement:
The phrasing is strikingly milquetoast: "Minister Farrakhan's statements about Jewish, queer, and trans people are not aligned with the Women's March Unity Principles, which were created by women of color leaders and are grounded in Kingian Nonviolence." Also striking is the group's explanation for why it took a week and a half for it to issue a statement: "Our external silence has been because we are holding these conversations and are trying to intentionally break the cycles that pit our communities against each other. We have work to do, as individuals, as an organization, as a movement, and as a nation."
Who is being pitted against whom here? The only question is whether or not viciously anti-Semitic claims — claims that have historically led to the murders of millions of Jews — should be swiftly denounced. And there is no version of "social justice," whatever one's conception of that might be, where the answer isn't obvious. There is nothing to discuss here.
But more than one member of the Women's March has described Farrakhan's rank anti-Semitism in exactly these terms: not as a decades-long pattern of bigotry to be denounced, but as a political maneuver (presumably from the right) that requires a deft, careful response. In January, for example, Women's March co-chair Carmen Perez told Refinery29: "In regards to Minister Farrakhan, I think that is a distraction." She continued: "People need to understand the significant contributions that these individuals have made to Black and Brown people… There are no perfect leaders. We follow the legacy of Dr. King, which is Kingian non-violence. We say we have to attack the forces of evil, not the people doing evil. We never attack people." The view that this is a "distraction" slots neatly into Mallory's desire not to "redraw the lines of division":
To be fair, there are definitely situations in which nuance is required to evaluated complicated, flawed figures, particularly when it comes to the leaders of bygone eras where different social mores reigned. But in this case, the subject at hand is a man who, in 2018, continues to spout murderous propaganda against a group that was, in his lifetime, almost entirely removed, via gas and bullet and starvation, from the European continent. If you're a Jew, it's absolutely baffling and infuriating for anyone to meet this sort of rhetoric with "Look, it's complicated," or "But what if our political enemies use this divide against us?"
More broadly, it's simply difficult to think of any other situation in the left-of-center universe where the response to hate speech would be anything like this, where the act of responding aggressively to that hate speech would be seen as a "distraction" or a political trap to be avoided. The Women's March, throughout this whole controversy, just hasn't come across as taking anti-Semitism very seriously.