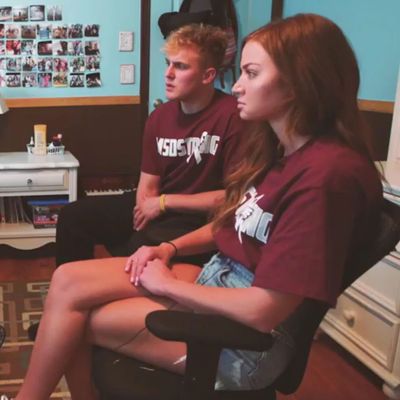 Jake Paul and Erika Costell speak with Parkland survivors.
Photo: Jake Paul via YouTube
It's been a little while since Jake Paul announced he'd be deviating from his daily vlog lifestyle and devoting his time and energy to "taking some time to go and help some people." Today, Paul returned from his two-week break with a 22-minute-long video confirming everyone's suspicions as to where he's been since then: Parkland, Florida.
Paul's latest video, given the ambitious title "It's Time to End School Shootings," centers around the Valentine's Day shooting at Marjory Stoneman Douglas High School, which killed 17 students and staff members. It's similar in tone to the suicide-prevention PSA recently posted by his brother Logan, which Logan posted as penance for vlogging a dead body hanging from a tree at the beginning of 2018. (What a year it's been for the Paul family!)
In the video, Paul talks to survivors and their families, local law enforcement, and Marco Rubio. ("Hey, what's up, man?" Paul says to the sitting U.S. senator.) It features a lot of soft lighting, soft speaking, soft music, and not a whole lot of useful intel on how people, Paul included, can make good on the video's title. (Apropos of, well, everything, now seems like a good time to mention Paul has a large automatic rifle tattooed on his thigh. It is decorated with the Gucci logo.)
The video starts with Paul discussing how he wanted to "figure out what needs to be done" and then "give that message to as many people as I possibly can." (Wedged in there is an animated graphic letting you know the video was produced by a company called Vybe Source. Tasteful.)
Next, we see him interviewing survivors Jonathan "JB" Blank and his mother. "I just want to become homies with him and just be there for him," Paul says on the way to the interview. Blank and Paul discuss the shooting in graphic detail. Blank was laying on the floor in one of the viral cell-phone camera videos from the shooting and noted you can see his sneakers in the clips. Two of his classmates were killed in that room and another two were injured. "One-hundred percent of the kids in my class would have been saved if the bulletproof glass had been put in," Blank told Paul.
Later, Paul has a tearful one-on-one with Blank's mother, Melissa, who thanks him for speaking with her son. "It was the best therapy for my son. When I heard him speak to you … he hasn't spoken to anybody," she says. "You didn't have an agenda. You cared."
Paul and his girlfriend, fellow YouTuber Erika Costell, speak with several other survivors throughout the course of the video. As has become a hallmark of the Parkland kids in the wake of the shooting, it's striking how eloquently and candidly they are able to speak about their trauma. "We're doing things we wouldn't have done if it wasn't our school," Ethan Rocha told Paul after discussing his friend Luke who was killed. "We regret not helping those other students at those other schools."
Then comes the senator. Paul and Rubio have a Skype conversation about eight minutes — yes, we're only at eight minutes — into the video. It's a corker: "People think passing laws is super easy," Paul tells Rubio. "Can you explain some of the struggles around passing laws?" Rubio explains he likes to work on "things we agree on … let's do those things first" and work from there to more divisive issues. He says that a major thing he learned from Parkland is that school shooters are "generally someone over a couple years has been getting worse and worse." "We have to be better at identifying who these people are way ahead of time." Rubio says. The two men do not discuss any sort of gun-control legislation.
Paul says he's been given "a ton of information," and that he's "walked away with about five big things." One: bulletproof windows. "Every family talked about having bulletproof windows inside on the doors." Two: school resource officers. Paul says Parkland, a school with over 3,000 students, had only one resource officer to keep an eye on things. Three: social media. "I know on Instagram if a girl posts a picture with her nipples out it automatically gets flagged and removed," Paul says. "Why can't we have the same technology with a kid taking a selfie with a handgun." Four: bulletproof shields. This one is exactly what it sounds like. Paul suggests kids be equipped with bulletproof shields shaped to fit into the laptop slot of a backpack. Five: checkpoints. Paul says Parkland was an open campus which made it easier for Nikolas Cruz to enter the premises with a gun. He says nothing about gun control or gun reform.
The video wraps with Paul pledging $25,000 "to help be a part of this cause." He gives no other details on what that entails or where that money is going. Paul also plugs the March for Our Lives event happening later this month in Washington, D.C., and says he'll be funding two buses to travel to the event. The final minutes of the video are devoted to showing photos of the victims, followed by another credit to Vybe Source. There's a note in Paul's description letting everybody know the video isn't monetized. If you've read this far, you really don't need to watch the video. Even if Paul isn't getting paid for it, don't give him the clicks on this one.