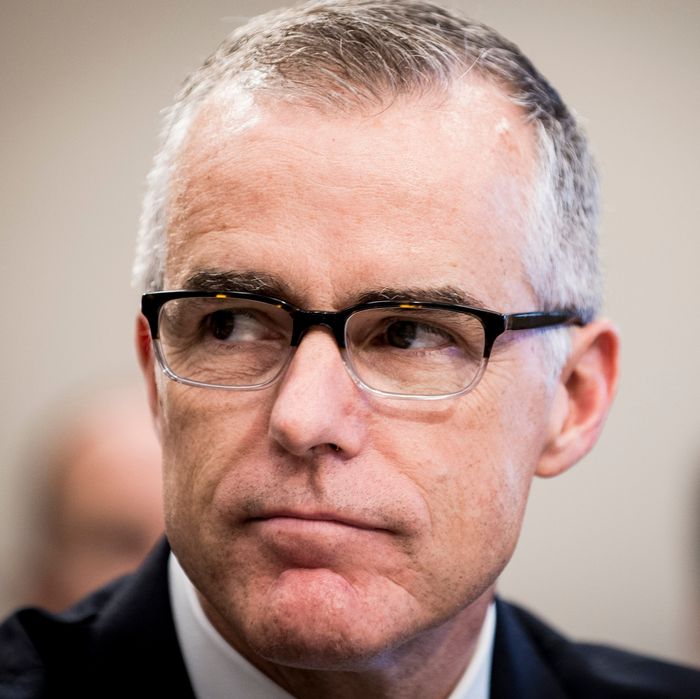 Andrew McCabe.
Photo: Pete Marovich/Getty Images
In a move that seemed designed to placate President Trump, Attorney General Jeff Sessions announced that he would fire Andrew McCabe, the former FBI deputy director, just two days before he was eligible for full retirement. By not letting him run out the clock on his career, Sessions may force McCabe to forgo some of his pension, which he had earned after 21 years at the bureau.
Trump had been agitating for McCabe's dismissal for months, and on Saturday morning he gloated that it had finally come to pass.
In a lengthy statement put after his firing — which he reportedly learned of from a news release — McCabe wrote that he had been unfairly singled out and made a target by the president.
"For the last year and a half, my family and I have been the targets of an unrelenting assault on our reputation and my service to this country," he wrote. He said that "the President's tweets have amplified and exacerbated it all," and maintained that "I am being singled out and treated this way because of the role I played, the actions I took, and the events I witnessed in the aftermath of the firing of James Comey."
The purported reason for McCabe's firing involves a yet-to-be-released report into the F.B.I.'s handling of Hillary Clinton's email server investigation in 2016.
A statement put out by the F.B.I. said  that McCabe "made an unauthorized disclosure to the news media and lacked candor − including under oath − on multiple occasions."
Lawfare's Benjamin Wittes wrote on Saturday that "anyone who is confidently pronouncing on the merits of Andrew McCabe's firing Friday night is venturing well beyond the realm of known facts," noting that no actual details surrounding his firing are available to the public, and that the investigation into McCabe's conduct involved several career Justice Department and FBI officials, including at least one appointed by President Obama.
Still, on first blush at least, Sessions's explanation does not pass the smell test, considering both the timing of McCabe's firing and the Trump administration's overall attitude toward the truth.
McCabe was also a close associate of James Comey, the former FBI director whom Trump fired last May. Trump's firing of Comey, and his earlier insistence that Comey shut down an investigation into Russian electoral interference in 2016, is at the center of a possible obstruction of justice case against Trump being cobbled together by Special Counsel Robert Mueller.
Though evidence points to the fact that the FBI helped out Trump during the campaign — whether inadvertently or not — the president and his allies have concocted a conspiracy that "deep state" actors in the bureau, including McCabe, protected Clinton from prosecution and tried to hobble his campaign. Part of Trump's proof for this dubious assertion is that McCabe's wife once ran as a Democrat in a State Senate race in Virginia, and received money from Terry McAuliffe, a longtime friend of the Clintons.
In the past several months, Trump has repeatedly gone after McCabe on Twitter, calling for his firing. (Because he has been so public and nakedly partisan on the matter, McCabe may have a solid legal case to recover his pension.)
Comey, who has been largely silent on his firing save for a day of Congressional testimony, is on the brink of embarking on a tour for his new book, which promises to reveal new, unflattering details about the Trump administration. Now that McCabe has been dumped, he is likely to follow suit.
Sessions has been in Trump's doghouse ever since he recused himself from the investigation into Russian electoral interference, paving the way for Mueller's appointment. (Sessions also promised to recuse himself from all matters related to the Clinton investigation, a vow he appears to have blatantly broken with the McCabe firing.) As rumors float about Trump possibly replacing him, Sessions may have wanted to mollify his boss by helping the president get revenge against what he views as a political enemy.