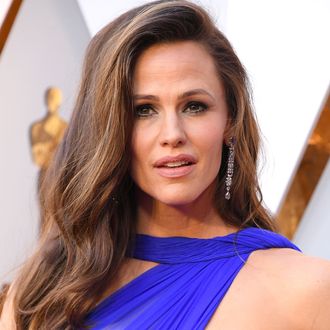 Jennifer Garner at the 2018 Academy Awards.
Photo: Steve Granitz/WireImage
Not since Winona Ryder managed 17 emotional expressions in the space of about two minutes' time at the 2017 SAG Awards have we, the viewing public, be taken on such a face journey as we were during last night's Academy Awards. While clapping along like the rest of the beautiful people around her, Jennifer Garner — Garner introduced Eddie Vedder's performance of Tom Petty's "Room at the Top — appeared to come to some sort of sudden realization. Brief. Dramatic. And enough for those of us watching to take note and wonder, What on Earth did she just realize and should I be realizing it too?