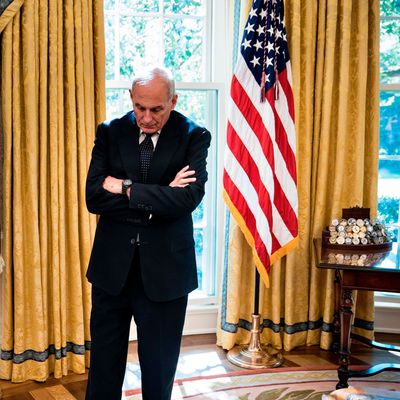 "I did something wrong and God punished me, I guess."
Photo: Brendan Smialowski/AFP/Getty Images
White House chief of staff John Kelly said on Thursday that "God punished" him when he left the Department of Homeland Security to go to work in the White House as President Trump's chief of staff.
The comment came at a celebration for DHS's 15th anniversary and was preceded by Kelly rolling his eyes like a surly teen when he alluded to the drama that surrounds him in the West Wing.
"I miss every one of you, every day," Kelly said, rolling his eyes.
"Truly, at six months, the last thing I wanted to do is walk away from one of the great honors of my life, being the secretary of Homeland Security, but I did something wrong and God punished me, I guess," he said.
Kelly, who was supposed to settle the rampant chaos in the West Wing, has proven unable to calm the storm. But some of the problems have been of his own making, including the fiasco with former White House staff secretary Rob Porter, who resigned last month after his history of domestic abuse was made public.
The good news for Kelly is that, like so many staffers before him, he might be on his way out, too. At least, he will be if short-lived White House communications director Anthony Scaramucci has his way.
The quick-talking former hedge funder has launched a campaign to oust Kelly, and his plan is to reach Trump by talking to the media, he told Bloomberg's Jennifer Jacobs. And on Thursday morning, Scaramucci hoped that Trump was watching CNN, where he told Chris Cuomo that "morale is terrible" in the West Wing, where Kelly rules "by fear and intimidation."