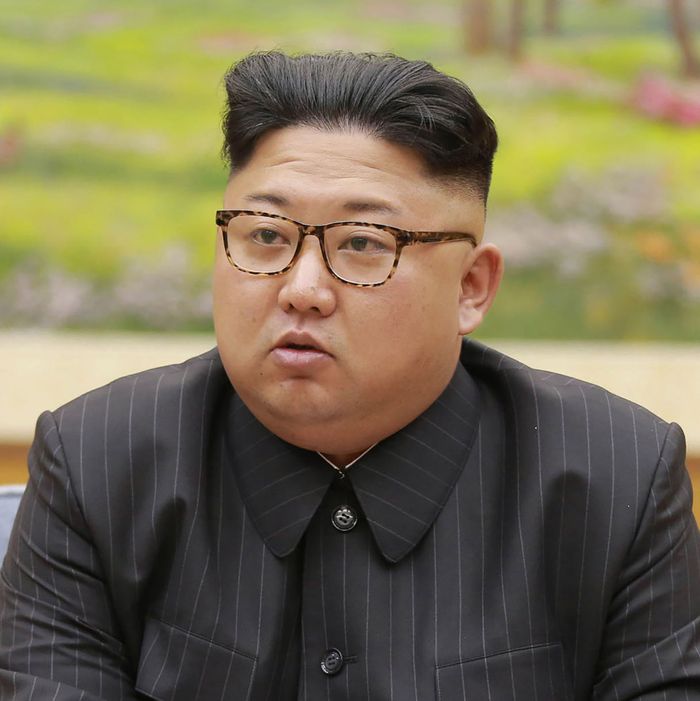 Beijing bound.
Photo: STR/AFP/Getty Images
Since taking the reins of his father's dictatorship in 2011, Kim Jong-un has been a bit of a homebody. As of last week, the North Korean leader hadn't made a single (known) trip beyond his nation's borders.
As of this afternoon, he's made one. On Monday, an armored train made its way through northeast China, disrupting the railway schedule and sparking social-media speculation that high-ranking North Korean officials were making their way to Beijing. Such rumors intensified when an elaborate motorcade appeared on the streets of the Chinese capital shortly after the train's arrival.
Not long after that, Bloomberg reported that North Korea's highest-ranking official was, in fact, bound for Beijing.
Few details about the nature of Kim's visit are currently available. But the extraordinary trip is (almost certainly) connected to Donald Trump's unprecedented decision to accept a meeting with the North Korean leader earlier this month.
Relations between Pyongyang and Beijing have soured in recent years, as North Korea has conducted nuclear tests that expose parts of China to the risk of radioactive contamination, and China has backed U.N. sanctions targeting the North Korean economy. But with direct talks between Trump and Kim tentatively scheduled for May, Xi Jinping's government is likely eager to ensure that any potential peace agreement aligns with its interests. China has historically opposed both the unification of the Korean peninsula, and a U.S. military presence in North Korea — developments that a peace agreement could theoretically bring about.
Regardless, Chinese buy-in is likely a prerequisite for any successful diplomatic solution to the standoff over Pyongyang's nuclear program: Given the power imbalance between the United States and North Korea — and America's history of breaking its promises to rogue regimes — Kim may be reluctant to agree to any deal, absent some assurance from China that it will hold Washington to its end of such a bargain.
Then again, all these considerations may soon be moot. After all, the president's top national security adviser is now a man who has publicly called for the immediate bombing of North Korea — and argued earlier this month that Trump's meeting with Kim was bound to end in failure.
For now, though, Kim is poised to make the rounds necessary for securing some kind of deal. Following his trip to Beijing, Kim is scheduled to meet with South Korean president Moon Jae-in next month near the border between their two nations, and then with Trump shortly thereafter.