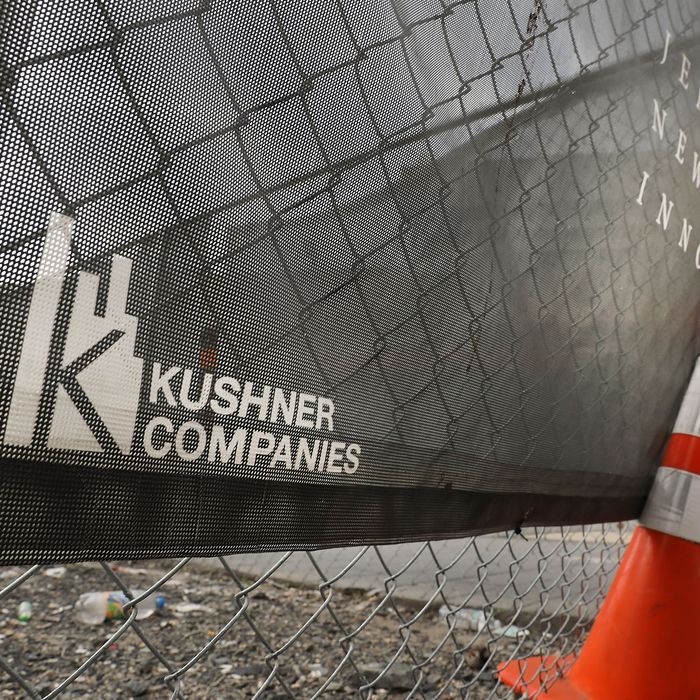 The company has also been accused of weaponizing construction efforts to harass tenants.
Photo: Spencer Platt/Getty Images
The Kushner Companies, the family business that Jared Kushner ran before joining his father-in-law in the White House, regularly filed false paperwork with New York City regulators, according to the Associated Press. The more than 80 work permits, which were filed in relation to 34 buildings in New York from 2013 to 2016, declared that the company had no rent-regulated tenants in the buildings, when in fact they had hundreds. The practice allegedly allowed Kushner Companies to quickly gentrify buildings even if they contained rent-regulated apartments — an often cumbersome problem for developers. None of the documents have Kushner's signature on them, but were instead signed by Kushner Companies's chief operating officer or another employee.
If the forms had been filled out correctly, the company's construction crews could have been subject to stricter oversight by the city, particularly to make sure that the company wasn't harassing rent-regulated tenants in a effort to get them to move out. Tenants of some of the buildings told the AP that they did feel harassed by the construction. One rent-regulated tenant said she was offered at least $10,000 to leave her East Village building amid construction that sometimes went on in the middle of the night. The man who offered her the money told her that, "I know it's pretty horrible, but we can help you get out." She sued the company — and won — instead. Another tenant claimed that Kushner Companies illegally tried to increase his rent by 60 percent and ultimately succeeded in clearing out all the other tenants in his building.
The Housing Rights Initiative, a New York tenants-rights organization which uses "a data driven and systematic approach to investigating real estate fraud and connecting tenants to legal support," discovered the relevant documents, which were then compared against tax records to reveal the discrepancies. The organization's founder, Aaron Carr, told the AP that Kushner Companies was guilty of "bare-faced greed" in pursuit of quick returns on its investments. New York City Council member Ritchie Torres now plans to investigate the false documents, and has accused the company of weaponizing construction against tenants. The city also says that two of the buildings in question are already under investigation for tenant harassment.
But most New York City landlords who are found to have submitted false paperwork — a misdemeanor crime that can result in an up to $25,000 fine — get away with it if they amend their forms when eventually confronted. Kushner Companies apparently did that with the false documents it submitted, a year or two later.
According to Kushner Companies, the false work permits were outsourced to third parties, and the company "would never deny any tenant their due-process rights." The company claims that "corrective action is taken immediately" if mistakes or violations in their paperwork are ever found, and that it has received minimal complaints across the thousands of apartments it has renovated.
The AP reviewed complaints against the company in New York and found frequent reports of off-hour, illegal, and improper construction, including work done without a permit at all.
Kushner Companies is also being investigated by the SEC and federal prosecutors in Brooklyn over its use of EB-5 visas to court foreign investors for its real estate developments.