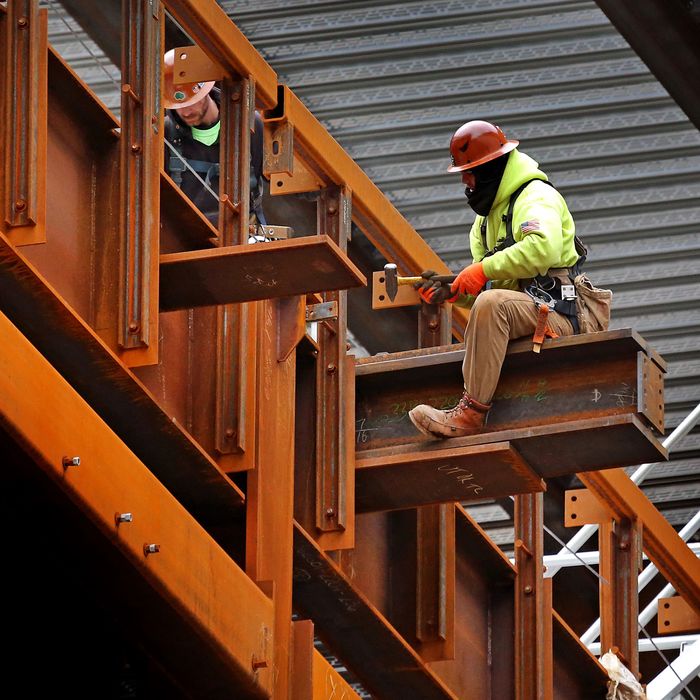 The latest jobs report shows broad-based gains in jobs, but not in wages.
Photo: David L. Ryan/Boston Globe via Getty Images
A week marked by global market jitters over the president's plan to impose tariffs on aluminum and steel is closing with abundantly good economic news: a February jobs report showing higher-than-expected job growth and lower than January's wage growth, precisely the magic mix that might reduce fears of inflation. That's significant because this is the last monthly jobs report before the Fed meets to reconsider its interest rate strategy. The relatively high wage growth the January report showed triggered a stock market selloff as analysts thought the Fed might add an extra interest rate hike into its plans to cool down what was beginning to look like an overheated (or at least heated) economy.
The February report raises no such alarms. The average hourly wage rose a measly 0.1 percent.
Meanwhile, the report showed net new job gains at 313,000, against a consensus expectation of 200,000. Job gains in December and January were also revised upward by a total of 54,000. The gains were broadly distributed, with positive numbers showing up "in construction, retail trade, professional and business services, manufacturing, financial activities, and mining." Unemployment was steady at 4.1 percent.
All in all, it was what the New York Times called a "dream report" for Wall Street — and indeed, the Dow Jones was quickly up more than 200 points. That's good, because the continuing turmoil over trade policy could spoil the party to a greater or lesser extent. We'll have to see how much danger is averted by Trump's willingness to offer exemptions to the steel and aluminum tariffs; how other countries respond; and whether his action is declared illegal by the World Trade Organization. The U.S. economy is clearly strong at the moment, but this could eventually look like a bright sunny day before a storm rolled in.