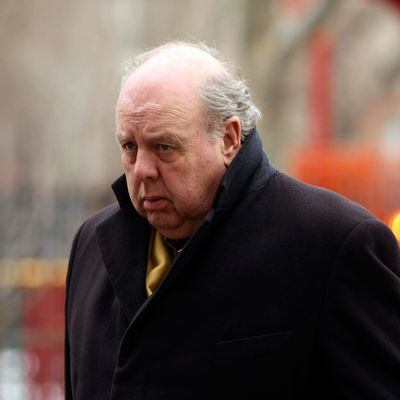 John Dowd.
Photo: Jin Lee/Bloomberg via Getty Images
John Dowd, the lead lawyer on President Trump's legal team for the Russia investigation, resigned Thursday, just 11 days after Trump tweeted that Dowd is doing a "great job" and he's "VERY happy" with him.
"I love the president and wish him well," Dowd told CNN in a statement.
He's also incredibly frustrated with Trump. Dowd, who has reportedly considered quitting in the past, finally made the decision to leave Trump's side because the president is "increasingly ignoring his advice," the Times reports. The paper adds that the feeling is mutual. Trump was reportedly frustrated by Dowd over the weekend after the lawyer told the Daily Beast that Special Counsel Robert Mueller should be fired. After initially claiming to speak for Trump, Dowd walked back that claim.
Jay Sekulow, another of Trump's lawyers, praised Dowd in a statement: "John Dowd is a friend and has been a valuable member of our legal team. We will continue our ongoing representation of the President and our cooperation with the Office of Special Counsel."
The Washington Post says Dowd's resignation marks a "shake-up" for Trump's legal team as he edges ever closer to agreeing to an interview with Mueller. The president recently hired former U.S. Attorney Joe diGenova and has reportedly reached out to former solicitor general Theodore B. Olson and Emmet Flood, the lawyer who advised President Clinton during his impeachment proceedings.
But the search for new counsel isn't going so well. Both Olson and Flood, along with two other lawyers, have turned down offers to join Trump's legal team in the past two weeks, CNN reports.