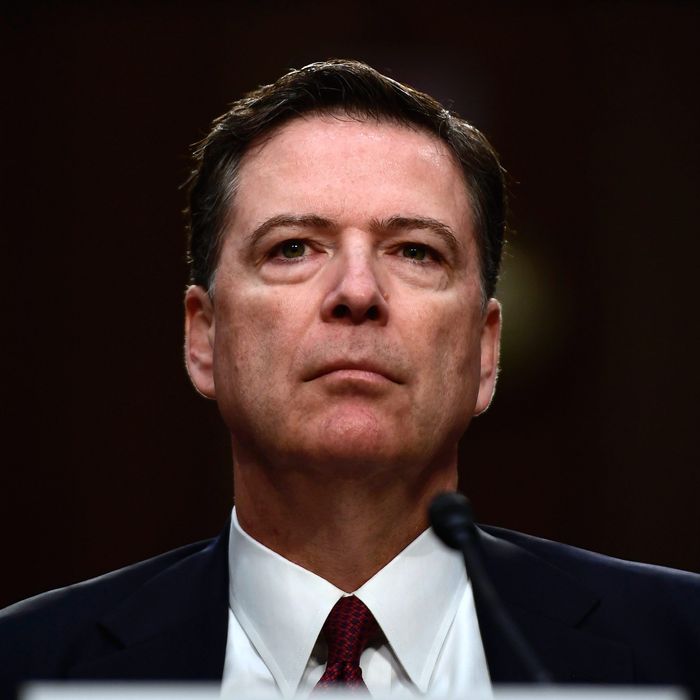 Former FBI director James Comey during a Senate Select Committee on Intelligence hearing in Washington, D.C., June 8, 2017.
Photo: Brendan Smialowski/AFP/Getty Images
James Comey's upcoming book, for which he received a $2 million advance, achieved best-seller status a month before its release. If that wasn't a clear enough indication that people are eager to hear what the former FBI director has to say, then this surely is: Tickets for his book tour are going for as much $850.
Comey's tour for A Higher Loyalty: Truth, Lies, and Leadership begins two days after its April 17 release, with a stop in New York City. The former FBI director will sit down with New Yorker editor David Remnick at Town Hall, and getting in the door won't be cheap. The event is sold out on Ticketmaster, which offered tickets for $55, $75, and $95. But there are plenty of seats available on the secondary market, where they're selling for as much as $850, "Page Six" reports.
Comey has spent the past few months teasing the revelations he'll make in A Higher Loyalty, which promises to overtake Michael Wolff's Fire and Fury as the hottest book of 2018, and remain in that position until another Trump administration tell-all hits the shelves.