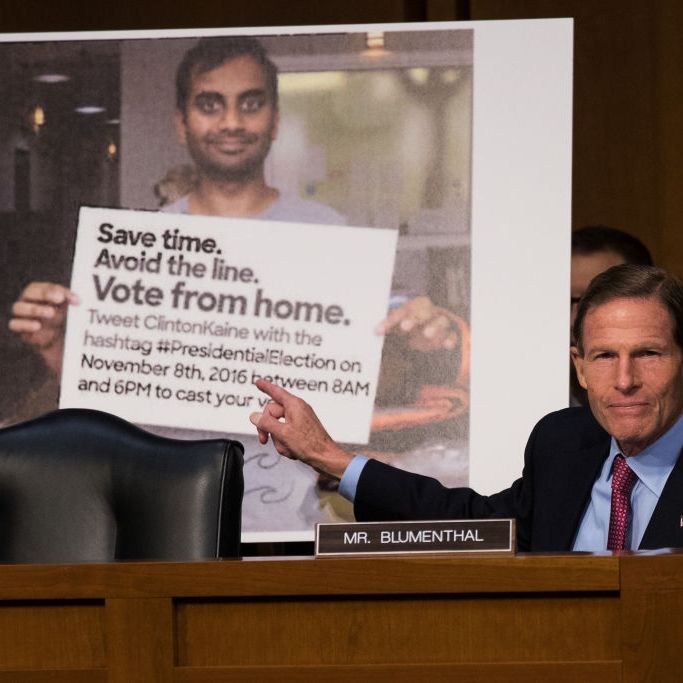 Senator Richard Blumenthal points to a Photoshopped Twitter post while questioning technology executives from Facebook, Google, and Twitter in November of 2017.
Photo: Drew Angerer/Getty Images
For years, tech companies have been among America's most well-regarded businesses — even as they've grown far beyond their startup origins in size, wealth, and power. But over the last four months, according to a new survey from Axios and SurveyMonkey, there's been a sea change in how likely people across the political spectrum are to be concerned that the U.S. government won't do enough to regulate U.S. technology companies.
The survey compared results from November 2 and 3 of last year, and February 23 and 24 of this year. Overall, respondents nearly flipped on which was more concerning, whether "the government will go too far in restricting how U.S. technology companies operate" or whether "the government will not do enough to regulate how U.S. technology companies operate." In November, 40 percent of total respondents said they worried the government wouldn't do enough, while 57 percent said the government would do too much. Now, 55 percent are worried the government won't do enough, while 39 percent are more concerned the government will do too much.
This shift was seen across the board, with the biggest movement coming from independents, who went from 37 percent to 57 percent in being concerned about a potential lack of governmental regulation. But there was also a 14 percent jump in worry among Republicans, from 31 to 45 percent.
Sentiment has also turned sharply against social media, with 55 percent of respondents saying social media hurts "free speech and democracy" and only 42 percent saying it helps. In November, 53 believed social media helped, while 43 percent believed it hurt.
These are big jumps in numbers on big issues in a relatively short amount of time. It's not all bleak news for technology firms — 71 percent of respondents still say technology overall has a "positive" role in society, and 82 percent believe that the financial success of U.S. technology firms has been good for the economy. And 57 percent believe that in ten years technology would make life better for them and their families.
But there are still undercurrents of worry. Fifty-five percent of respondents believe that in ten years technology would take away more jobs than it creates, and those numbers were consistent across every age group and across the political spectrum. Reading the tea leaves, respondents seem to see a future where they and their families benefit from technology, but society (or at least the labor market) suffers.
You can blame this shift in perspective on myriad things. Press coverage of tech companies, once nearly generally glowing, is now much more skeptical. Witness Wired's turn from December 2016's "Could Facebook Save Your Life?" cover to this month's cover photo of a physically beaten Mark Zuckerberg, or The New York Times Magazine's most recent cover story, "The Case Against Google."  (And, of course, New York's own coverage.)
And there is, of course, the worry that tech platforms like Facebook and Twitter allowed for Russians to influence the U.S. election. Or, more generally, concern about the rapid rise of outlets using social media and online media platforms to spread fake news for profit or ideological purposes.
Whatever the reason, while the Trump administration and Republican Congress seem unlikely to suddenly become regulation-friendly, you can expect the amount of lobbying money tech firms are spending in Washington to only go up.