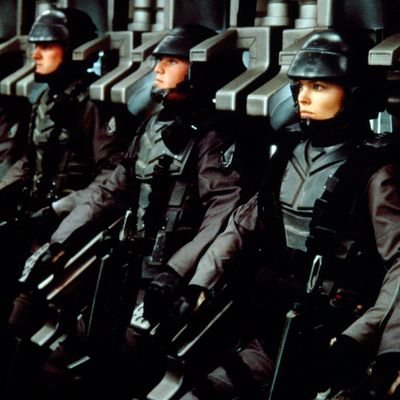 Maybe the president saw
Starship Troopers
back in the day.
Photo: ©TriStar Pictures/Courtesy Everett Collection
Californians have been bracing themselves for some classic Donald Trump weirdness during the president's quick trip to the border, San Diego, and Los Angeles this week. But this pronouncement during his address to the Marines at Miramar Air Station was unexpected. Gizmodo has the story:
"My new national strategy for space recognizes that space is a war-fighting domain, just like the land, air and sea," said Trump. "We may even have a 'space force'—develop another one—space force. We have the Air Force. We'll have the space force. We have the Army, the Navy."




Omitted from Trump's list of armed forces branches were the Coast Guard and (presumably comprising a large part of the crowd at Marine Corps Air Station Miramar) the Marines. 




Trump continued by noting that the concept of a space force was one he both thought up and had previously dismissed. "I said 'maybe we need a new force. We'll call it the space force.' Not really serious," he told the crowd to mixed laughter, "And then I said 'What a great idea. Maybe we'll have to do that.' That could happen."
Actually, despite Trump's claim of having originating it, the idea of a new branch of the military to be dubbed the "Space Corps" (under the umbrella of the Air Force) was embraced by the House Armed Services Committee in its version of the last defense authorization bill. But it was dropped from the House-Senate conference committee, and where's why, according to CNN:
[T]he idea was opposed by Pentagon leaders and the White House, who argued the idea was premature and needed more study.




Defense Secretary James Mattis even took the rare step of writing a letter supporting an amendment to remove the Space Corps from the House's version of policy bill earlier this year.
We have no way of knowing right now if Trump missed that whole series of events, or heard about it and substituted his own endorsement for Mattis's dismissal, or just ate a rich dessert before bedtime and dreamed the whole thing up. But his unfeigned excitement at "his" idea was a reminder that the oldest man ever elected president is in some respects a man-child.