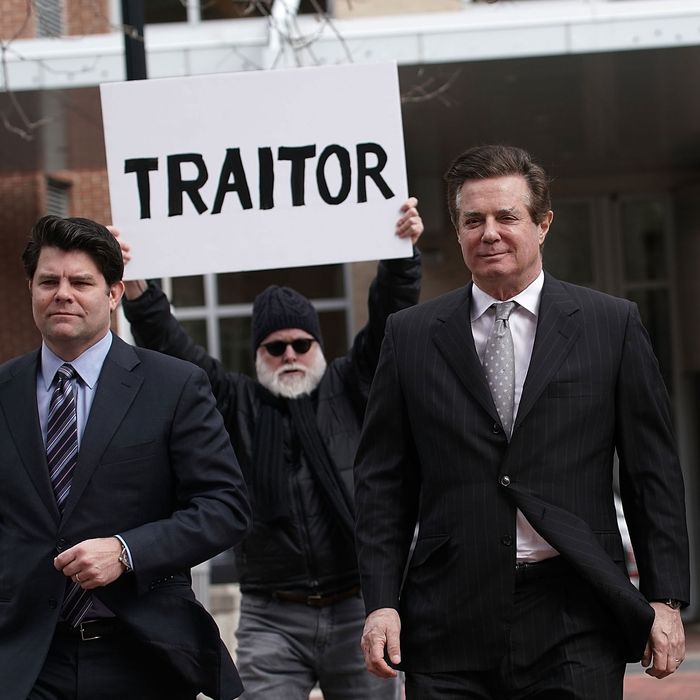 Paul Manafort and sign.
Photo: Alex Wong/Getty Images
Paul Manafort will go on trial for bank and tax fraud on July 10, a Virginia judge said Thursday, after Manafort pleaded not guilty to an 18-count indictment. President Trump's one-time campaign manager, Manafort was greeted by shouts of "traitor" as he arrived at the courthouse.
The trial is one of two on Manafort's schedule in 2018. The other, which will begin on September 17 in Washington, D.C., is for additional charges, including money laundering and failure to register as a foreign agent. If he's found guilty on the charges in the Washington case, Manafort could be sentenced to nearly 20 years in prison. The Virginia charges come with a maximum sentence of 305 years.
Both sets of charges have been brought by Special Counsel Robert Mueller, who is investigating Russian interference in the 2016 presidential election.
In a February indictment, Mueller accused Manafort and his longtime partner Rick Gates of making "tens of millions of dollars" while working for Ukraine. "From approximately 2006 through the present, Manafort and Gates engaged in a scheme to hide income from United States authorities, while enjoying the use of the money," the indictment says.
Though the goal of Mueller's charges appeared to be convincing Manafort to plead guilty and cooperate with Mueller, it hasn't worked. Not on him, at least. Last month Gates pleaded guilty to conspiracy charges and agreed to assist the special counsel's investigation.