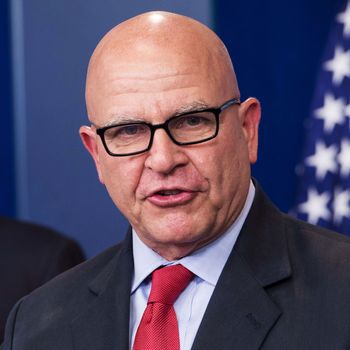 H.R. McMaster.
Photo: Nicholas Kamm/AFP/Getty Images
Following months of rumors that his exit was imminent, the White House announced on Thursday evening that Lieutenant General H.R. McMaster will resign as national security adviser. He will be replaced by John Bolton, who was the U.S. ambassador to the United Nations under President George W. Bush.
"H.R. McMaster has served his country with distinction for more than 30 years. He has won many battles and his bravery and toughness are legendary," Trump said in a statement. "General McMaster's leadership of the National Security Council staff has helped my administration accomplish great things to bolster America's national security."
It was reported last week that Trump had decided to fire McMaster, but his exit might be delayed by weeks or months so the White House could arrange a non-humiliating exit. According to the New York Times, McMaster decided to accelerate his departure, partly because rumors about his status were casting a shadow over his interactions with foreign officials.
The latest change comes after Secretary of State Rex Tillerson was fired (in a quite humiliating fashion) last week, and replaced by CIA director Mike Pompeo. Officials said Trump's goal is to have his new security team in place before he meets with North Korean leader Kim Jong-un. Unlike Tillerson's exit, McMaster's departure is said to be amicable. McMaster will retire from the military.
Bolton, one of the most hawkish neoconservatives, will take office on April 9. He was said to be on Trump's short list of candidates for a national security position as far back as the transition, but due to his role in pushing for the Iraq war, his arguments in favor of bombing Iran, and claims that he bullied subordinates, he was seen as too controversial at the time — but lately, Trump seems even less concerned about such things.