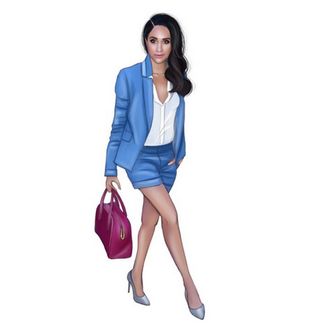 Meghan Markle emoji.
Photo: DRKHORS Media
Excellent news for everybody out there with a group thread devoted to texting about the upcoming royal wedding. Kate Middleton and Meghan Markle are reportedly getting their own sets of emoji. We're not talking about official, Unicode-issued emoji, but a third-party app. (Think Kim Kardashian West's Kimoji.) TMZ reports that a company called DRKHORS has filed trademarks on the names "KateMoji" and "MeghanMoji."
From TMZ:
KateMoji will focus on Kate and her royal family, while MeghanMoji will focus on Meghan and Harry falling in love. Each package will include British sayings and phrases — some, like "American princess" and "cheeky bugger," are already up on the company's website, along with some KateMoji and MeghanMoji prototypes.
The emoji are expected to launch in May. Until then, you'll have to continue using the standard woman-with-crown emoji in your texts.