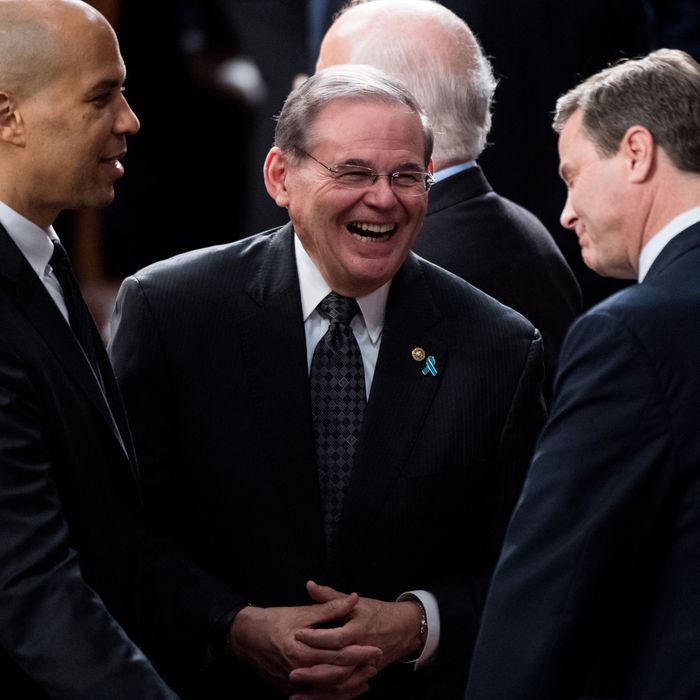 Things are looking up for the once-embattled New Jersey senator.
Photo: Bill Clark/CQ-Roll Call,Inc.
For a while there, as New Jersey U.S. senator Robert Menendez remained in legal peril from federal corruption charges, Republicans fantasized about an unexpected 2017 or 2018 Senate pickup that was, on paper, as audacious as Democratic fantasies about picking up a seat in Alabama. As Menendez's trial began last September, there were even GOP hopes that he'd be forced out of office in time for outgoing Governor Chris Christie to appoint an interim successor. And Republicans figured that even if Menendez did not go to the slammer, he'd be damaged enough by allegations that he'd exerted undue influence on behalf of a wealthy physician in exchange for campaign contributions and personal gifts that he'd be vulnerable.
Six months later, all that has changed. In short order, a mistrial was declared in Menendez's trial, with jurors leaning toward acquittal; a judge dismissed some of the charges against him; and finally, federal prosecutors decided against retrying him. Chris Christie left office without getting a Senate appointment. And, as a new Quinnipiac poll of New Jersey shows, the embattled Menendez is now cruising toward reelection to a third term in November.
Even though 38 percent of New Jersey voters think Menendez was involved in "serious wrongdoing," enough of them are willing to overlook it to make him a strong favorite for reelection. Q-Pac shows him leading Republican opponent Bob Hugin (a pharmaceutical executive) by a robust 49/32 margin. And Menendez's job-approval ratios, which had turned negative, have definitely rebounded. When Menendez was first indicted in 2015, and again last September when his trial began, he was underwater (at 31/49 in September). Now, his approval ratio is 46/39. That's not sensational, but in a heavily Democratic state like New Jersey, it should be enough to ensure a win in November, barring something unforeseen.
Menendez was first elected to public office at the incredible age of 20 in 1974, when he won a spot on the local school board. He was a mayor, a state assemblyman, a state senator, and a U.S. House member (and chair of the House Democratic Caucus) before entering the U.S. Senate via an appointment in 2006. He is quite the survivor, and can probably count on at least another six years of elected office after this one.