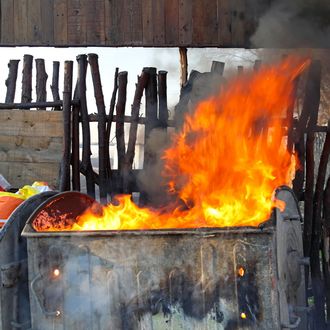 Photo: Baloncici/Getty Images/iStockphoto
The year is 2018 and Merriam-Webster would like you to know that "dumpster fire" is officially a dictionary-recognized noun. The term was added on Tuesday, along with 849 others, including welp, glamping, cryptocurrency, and initial coin offering. Welp.
Dumpster fire, if your brain is still capable of thinking back to the tumultuous period that was the 2016 election, rose to peak linguistic popularity two years ago. It was deemed the "meme of 2016" by Mother Jones. There was one particular GIF, a blue dumpster full of flames, that popped up everywhere, from Twitter to Facebook to group text threads. Somebody even tracked down the GIF's origin story to a dumpster in California. Thus 2016 was the year of the dumpster fire. Merriam-Webster's definition swings a little more broadly, defining dumpster fire as "an utterly calamitous or mismanaged situation or occurrence." Basically a synonym for disaster.
Merriam-Webster is aware that it's late to the dumpster-fire party. "We, as a dictionary, are not looking in real time. We are kind of a lag indicator, in financial terms," Merriam-Webster editor-at-large Peter Sokolowski said to NPR. "We are really interested in the terms that are here to stay, that we are very unlikely to ever take away from the dictionary." Which is fine, really, because two years later things are pretty much still dumpster-fire-level bad … even if we've stopped calling said things dumpster fires.