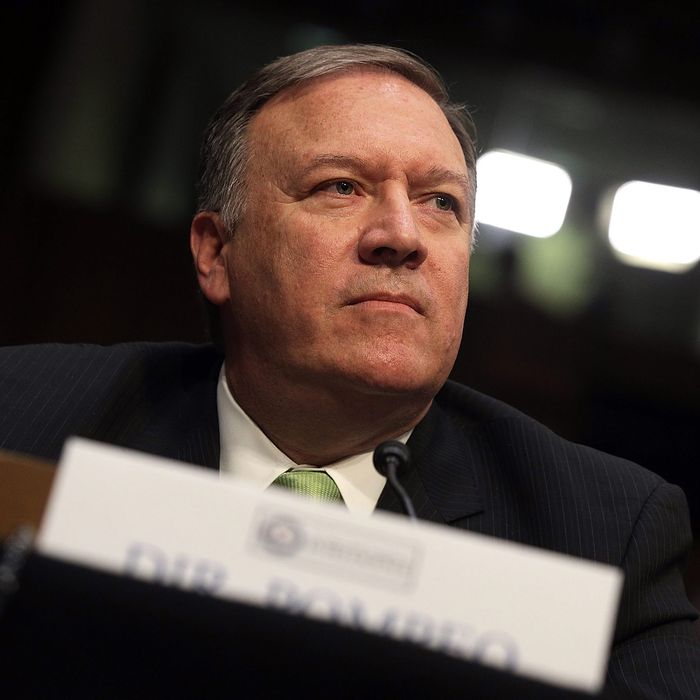 Trump's pick for secretary of State, Mike Pompeo.
Photo: Alex Wong/Getty Images
In June of 2013, two months after the bombing at the Boston Marathon, then-Congressman Mike Pompeo took to the House floor and criticized Muslim leaders across the country for failing to condemn the attack, even though many of them had. This alleged "silence" made "Islamic leaders across America potentially complicit in these acts" of terrorism, said Pompeo, who will be the next secretary of State if President Trump gets his way.
Pompeo's history as an Islamophobe is no secret, and given his statement on the House floor, not something he's ever tried to hide. But given his potential ascendance to secretary of State, statements like the one above and his acceptance of an award from ACT for America, a group classified as the "largest anti-Muslim group in the United States" by the Anti-Defamation League, are drawing new scrutiny.
"As the top diplomat for the United States, it is crucial that the Secretary of State carries out a foreign policy agenda that doesn't marginalize American communities," Hoda Hawa, of the Muslim Public Affairs Council, told Huffington Post. "Pompeo has shown, both as a Member of Congress and as the CIA Director, that his personal feelings inform his policies."
Nihad Awad, the national executive director of the Council on American-Islamic Relations, said Pompeo should have "no role in our nation's government, let alone at the highest levels of policy-making."
His appointment has "the potential to harm our nation's image and our relations with key players in the international community," Awad said in a statement.
Pompeo's Islamophobe credentials are without dispute. He has fought for years to designate the Muslim Brotherhood as a terrorist organization, a move that even the Trump administration has refused to make. He was once a regular guest on the radio show of Frank Gaffney, where he once agreed with the notoriously anti-Muslim host that President Obama had an "affinity" for ISIS. And in 2016, he claimed that "people who deeply believe that Islam is the way" are a "threat to America."
Having an anti-Muslim bigot in Congress or even leading the CIA, as Pompeo has been for 14 months, is one thing, but that same bigot ascending to the role of the nation's top diplomat is quite another. Writing for NBC News, Muslim lawyer and activist Arsalan Iftikhar says that nominating Pompeo proves that "pluralistic diplomacy towards the Muslim world is not even remotely important" to Donald Trump.
Despite the criticism from Muslim activists, it's unclear if any Senators will oppose Pompeo because of his bigotry. Those who have already declared their opposition to his nomination cite other concerns, including his apparent eagerness to go to war with Iran and his support for torture.
Whatever their reasoning, though, Senators seem poised to give Pompeo a more thorough vetting than the one he received last year when he was confirmed as CIA head. "I'm giving him a new look because the CIA director has virtually no policy responsibilities, and as secretary of State he'll have responsibility in a lot of areas," said Democratic senator Sheldon Whitehouse this week. If he looks very hard, he's sure to be disturbed.