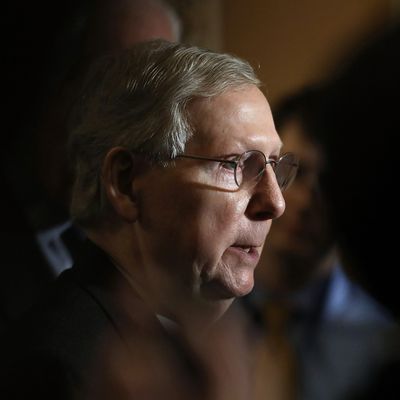 Big fan of Bob Mueller.
Photo: Win McNamee/Getty Images
With President Trump seeming to edge ever closer to firing Special Counsel Robert Mueller over the weekend, Republican leadership stayed mostly silent. While the likes of Lindsey Graham and Jeff Flake warned Trump that he would be risking disaster if he pulled the trigger, there was nary a peep from the people who have the most power to protect Mueller's job.
On Tuesday, both House Speaker Paul Ryan and Senate Majority Leader Mitch McConnell finally spoke up to defend the special counsel's work, but didn't go so far as to pledge to protect him on a legislative level.
At a press conference, Ryan said, rather unconvincingly, that he had "received assurances" from an unnamed person that Trump would not fire Mueller, and that the special counsel would be able to conclude his investigation. But given the president's capriciousness and reliable unreliability, this does not amount to much of a guarantee of anything.
McConnell was much stronger in his remarks.
"Bob Mueller should be allowed to finish his job," he told reporters at his weekly news conference. "I think it was an excellent appointment. I think he will go wherever the facts lead him and I think he will have great credibility with the American people when he reaches the conclusion of this investigation. So I have a lot of confidence. This is a thoroughly credible individual, I think it was an appropriate appointment, and we all anticipate his finishing the job and telling the American people what they need to know about this episode."
The senator's surprisingly vigorous defense earned plaudits from Minority Leader Chuck Schumer, who said of McConnell, "I want to his salute his statesmanship."
Still, despite the strong words, McConnell nixed the idea of passing a bipartisan bill to protect Mueller's job, a provision Democrats have been pushing for. In his refusal to do so, he was basically parroting the view of other down-the-line Republican lawmakers like John Cornyn, who believes that since there is no conceivable way Trump would ever dream of firing Mueller, there is no need for any legislative action.
Maybe the Republicans are right. Firing Mueller would be a complicated, potentially catastrophic endeavor, and despite President Trump's clear wishes to do so, there's a reason he hasn't yet taken the plunge. But it's certainly not hard to imagine Mueller drawing one step closer to Trump's orbit, the president making a rash decision to clean house, and Congress being left completely unprepared to deal with the fallout.
We'll see if McConnell and Ryan are so supportive of Mueller if that day comes.