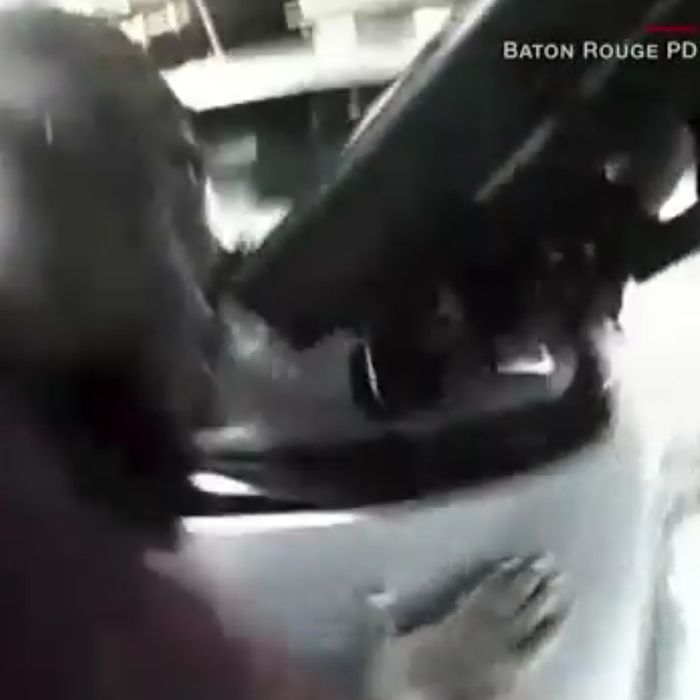 Photo: Screencap/Baton Rouge Police Department
The white Baton Rouge police officer who shot and killed Alton Sterling in 2016 was fired on Friday, and police released disturbing new footage showing the officer, Blane Salamoni, almost immediately threatening to shoot Sterling, who was black, during the episode. Citing the videos and other evidence, state and federal authorities declined to file criminal charges against Salamoni and a second officer, Howie Lake II, earlier this week. The Baton Rouge Police Department disciplined Lake with a three-day suspension, but fired Salamoni for violating the department's training and organizational standards and losing "command of temper." Both officers had been on paid administrative leave since the shooting.
Following the announcement of the disciplinary actions against the two officers, the police department finally released the additional video footage of the shooting, which occurred in a convenience store parking lot just after midnight on July 5, 2016. The new footage includes body-cam videos from the two officers, as well as a police dash-cam video and another from the convenience store's security camera.
In the videos, Salamoni is seen pulling his gun almost immediately after confronting Sterling and trying to force him down onto the hood of a car. Salamoni points his gun at Sterling's head, repeatedly threatening to shoot him there if he doesn't obey the officers' commands. As Sterling asks what he has done, the two officers try to push him onto the car. Salamoni also repeatedly yells obscenities at Sterling, at one point calling him "bitch."
After the initial struggle, Lake fires his taser at Sterling twice, and then Salamoni tackles Sterling to the ground, with both men bouncing off the car as they go down. As the officers struggle on top of Sterling, one of them shouts that he has a gun and Salamoni fires three shots, then another three rounds after Sterling tries to push away. (Be warned that this video clearly shows Sterling being shot.)
Once the officers back away, Sterling is shown lying on the ground, the front of his shirt covered in blood. He moves his arms around over his body a few times, then lies motionless. One of the officers searches his pockets, but neither appear to offer any first aid to Sterling, and by the time paramedics arrive, he is dead. After the shooting, Salamoni also yells at Sterling that he is a "stupid ass motherfucker." (He later told police investigators that he only said that because he was "so mad at Sterling for making him kill him and for trying to kill us.")
Sterling's death was also filmed by bystanders who quickly posted the videos online, sparking street protests in Baton Rouge.
The officers had responded to a call that a man fitting Sterling's description had been seen brandishing a gun at the convenience store. Police later reported that Lake found a loaded .38 caliber handgun in Sterling's pocket after the shooting, though that gun is never clearly seen in any of the videos. Louisiana's attorney general also claimed that the illegal drugs identified in Sterling's toxicology report could have caused "violent and irrational behavior," but it's not clear from the video that Sterling acted that way, and the most violent part of the encounter happens after Sterling was tased and tackled by Salamoni. No videos show Sterling reaching for a gun in his pocket.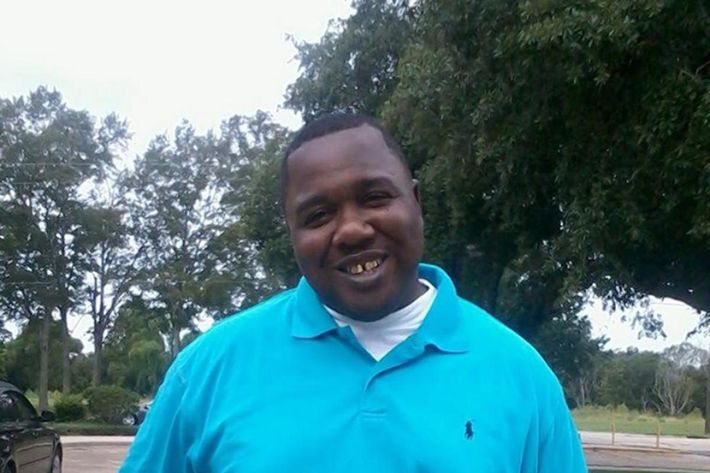 After the release of the new footage, a lawyer for Sterling's family argued that the videos proved that Salamoni was the aggressor in the incident, and that Sterling seemed calm and clearly did not assault the officers or deserve to be killed for his reactions to them. Another family attorney said that Sterling's mother had an anxiety attack and collapsed after seeing one of the new videos.
Salamoni, who at the advice of his lawyer did not answer any questions during his disciplinary hearing on Thursday, will appeal his termination. Baton Rouge Mayor Sharon Weston Broome has said that the city will launch its own investigation into the shooting, as well.