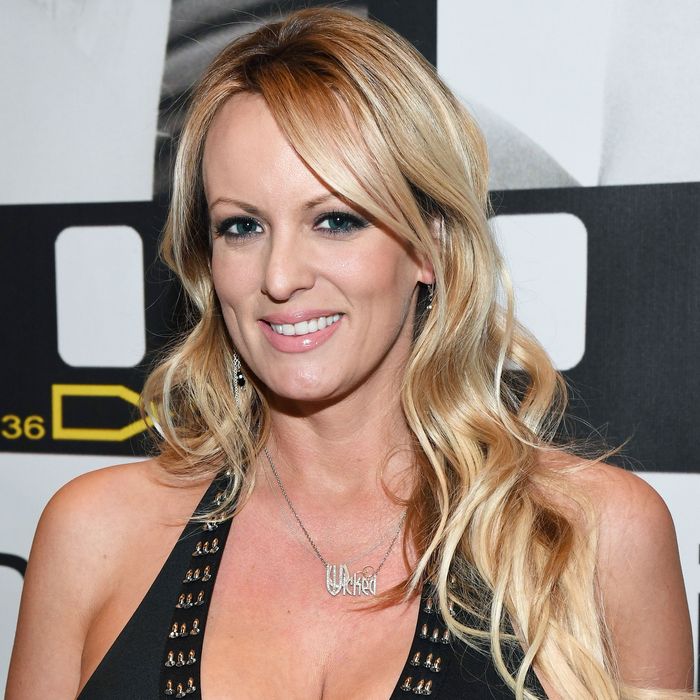 Trump attorneys love volunteering their services without the president's knowledge.
Photo: Ethan Miller/Getty Images
Shortly before the 2016 election, longtime Trump Organization attorney Michael Cohen arranged a payment of $130,000 to porn star Stormy Daniels, who claims she had an affair with Donald Trump a decade earlier. When news outlets revealed the existence of this alleged "hush agreement" in recent months, Cohen claimed he paid Daniels (real name Stephanie Clifford) out of his own pocket. He wouldn't explain his motivation, but insisted it had nothing to do with his boss's business or campaign.
"Neither the Trump Organization nor the Trump campaign was a party to the transaction with Ms. Clifford, and neither reimbursed me for the payment, either directly or indirectly," Cohen said.
White House press secretary Sarah Sanders once referred to a temporary restraining order Cohen obtained against Clifford by saying the arbitration was won "in the president's favor," but both Cohen and the White House have insisted that he was acting independently.
That's why it's so odd that the arbitration demand dated February 22, 2018, lists a second Trump Organization lawyer, Jill Martin, as counsel for Essential Consultants LLC, the company Cohen set up to make the payment to Clifford.
Martin is the first Trump attorney aside from Cohen linked to the case, and it's unclear if she was involved prior to the arbitration filing. Like Cohen, Martin claimed that when she signed the documents she was working in a private capacity, not for the Trump Organization — though she is still employed at the company full-time, and used the address of her office at the Trump National Golf Club, Los Angeles, on the documents.
Martin replied to inquiries from CNN and The Wall Street Journal, which broke the story, with a statement from the company: "The Trump Organization is not representing anyone and, with the exception of one of its California based attorneys in her individual capacity facilitating the initial filing … the company has had no involvement in the matter."
Martin has also denied any involvement in the Trump campaign, though she spoke on Trump's behalf several times throughout the 2016 race. For instance, in October 2016 she appeared on CNN to defend her boss from multiple allegations of sexual harassment, saying, "I've seen him around women. Thousands of women that have worked for him including myself and he's treated us with nothing but respect and appropriately."
Clifford filed a lawsuit against Trump last week, alleging that their contract isn't valid because he never signed it, so she should be able to tell her story. Her attorney, Michael Avenatti, shared the arbitration filings that were signed by Martin.
"We are uncovering more and more evidence that demonstrates that the American people have not been told the truth," he said. "We will not stop until we get to the bottom of this."