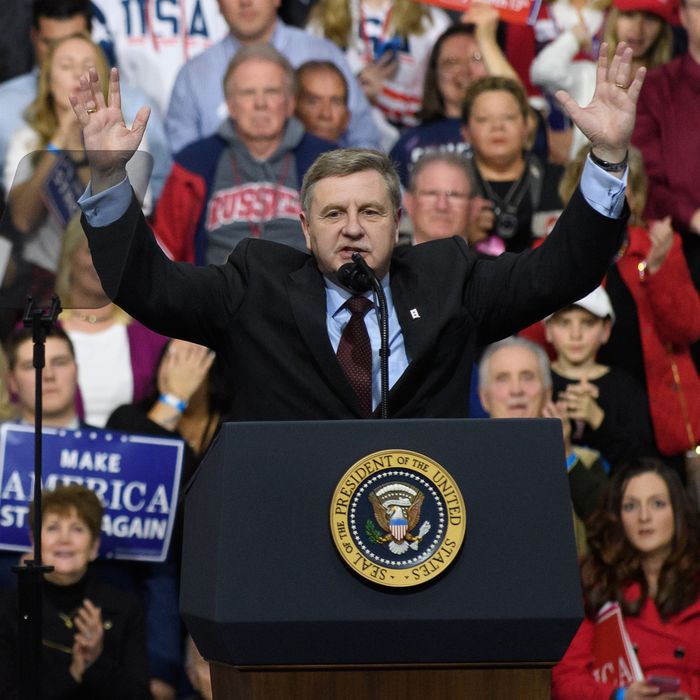 Donald Trump appears with Rick Saccone at a rally in Moon Township, Pennsylvania, on March 10.
Photo: Jeff Swensen/Getty Images
With all precincts reporting, and a scattering of absentee, provisional, and military ballots outstanding — Democrat Conor Lamb has a 641 vote lead over Republican Rick Saccone in Tuesday's special congressional election in the 18th congressional district of Pennsylvania. It could be days before we find out for certain sure which candidate will occupy a soon-to-be-vaporized congressional seat until the end of the year. (One or both of them will probably run in very different districts, to be created by the Pennsylvania Supreme Court, for the midterms.) Lamb declared victory around 1 a.m., but the race is still officially "too close to call" and Saccone has not conceded.)
While we don't yet have a clear winner in this election, we do have a clear loser: the Republican Party. This was, as I argued some time ago, the "no-excuses" special election for the GOP. This congressional district is strongly Republican and strongly pro-Trump. Saccone wasn't a perfect candidate, but he wasn't a disaster like Roy Moore, either: He had enough outside money and enough get-out-the-vote help from the national party and conservative groups to counteract anything Lamb could throw at him. Plus, he had massive support from the president, his family, and his administration, in an iconic Trump Country district that almost perfectly typified the Rust Belt areas that decided the presidency. If Lamb wins, it will represent a historic disaster for the GOP. If Saccone wins, it will still send a stark warning sign to the majority party in the House as we head toward November.
Republican message-meister Frank Luntz put it plainly this evening:
If you need a quick visual depiction of the reversal of the district's leanings, check out this map from the New York Times which shows the vote shift since 2016 for precincts in three of PA-18's four counties (the fourth did not report precinct-level votes tonight):
Yes, this is a special election; some might imagine that in a regular election, such as the one in November, more Republican voters will show up. The problem with that hypothesis is that turnout today was at full midterm levels. There's no reason to think turnout patterns in November will be more favorable for the GOP, particularly given the massive Trump administration attention that this district got during this contest.
Another Republican rationalization we have already heard from the Washington Examiner's Salena Zito is that Conor Lamb is not a real Democrat (because he was nominated by a convention and didn't have to win the votes of left-bent primary voters), and thus his performance does not show how real Democrats will do in November. But, by any standard, Saccone is a real Republican who ran more than ten points behind the normal GOP vote in Pennsylvania's 18th district. And Lamb was lifted to parity with Saccone by the very same labor movement — battered and diminished as it is — that will be fighting for Democrats in swing districts all over the country. Dismiss labor, dismiss energized rank-and-file Democrats, and dismiss the ability of the Donkey Party to find suitable candidates like Lamb, and you're well on the way to underestimating the likelihood of a Democratic wave in November.
Yes, a lot of things can change between now and then. But we are now seeing a regular pattern of Democratic over-performance in special elections — whether they ultimately win or lose — spanning the entire Trump administration so far. This election may just be another data point among many, but put them together and they unambiguously show big trouble for Trump and his party. To paraphrase Frank Sinatra, if they can't make it there (in southwest Pennsylvania), they can't make it anywhere. And it's time they woke up and smelled the bitter coffee.
This post was updated to note that Lamb declared victory.