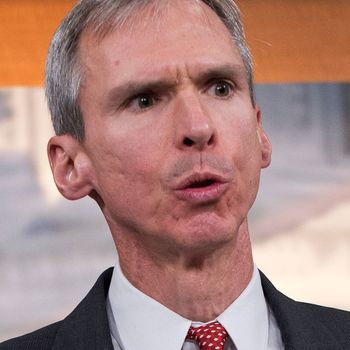 Dan Lipinski wasn't very supportive of his fellow Chicago Democrat Barack Obama. It's now coming back to haunt him.
Photo: Getty Images
Congressman Dan Lipinski is a Democrat from Barack Obama's hometown of Chicago, yet he failed to support the former president on such key initiatives as the Affordable Care Act — and even on his reelection bid in 2012. Understandably, this left Chicago-based aides and supporters of the 44th president highly irritated.
So just a few days before a primary in which Lipinski is in serious danger of losing to challenger Marie Newman, these Obama vets found an opening to remind Democrats of the incumbent's treachery. Politico has the story:
A campaign mailer from a super PAC backing Lipinski gave the group the opportunity to pile on Lipinski at the worst possible moment. The mail piece featured a photo of the former president on one side, and the words "Known for Leading." The flip side offered a picture of Democratic opponent Marie Newman under the headline, "Known for Misleading."
So they got together at a former office of Obama strategist David Axelrod — "the very place they said Michelle and Barack Obama made their decision to launch a 2008 presidential bid" — and held a press conference to blast Lipinski for hypocrisy.
The group recounted the difficulties of corralling enough votes to pass the Affordable Care Act eight years ago — and lamented that Lipinski was the only Illinois Democrat to vote against it.




Organizing for Action National Finance Committee member John Atkinson recalled watching the roll call vote in 2010 with "tears streaming down my face," from the pride he felt in the moment the landmark health care act passed….




"I was stunned to watch Dan Lipinski vote to deny 20 million Americans the very coverage that he and I both enjoyed, while defying a president and members of Congress who put their careers on the line to pass this health care reform in this country," Atkinson said. "We will not allow Dan Lipinski's hypocrisy to stand.
Lipinski's campaign complained that it had nothing to do with the flier that used the former president's image, and also claimed the congressman had voted for Obama's reelection. But it's kinda like Lipinski's protestation that while he voted against Obamacare because of its abortion provisions, he later voted against repealing it. It's too little and too late.
Meanwhile, as Politico put it, Obama loyalists engaged in some "Chicago-style payback." Perhaps a better phrase would be "rough justice."