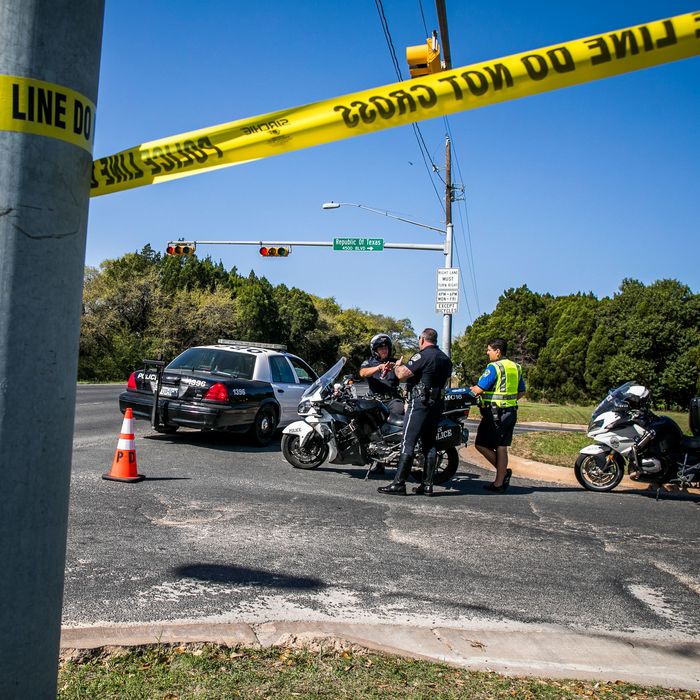 Scene from the bombing in San Antonio.
Photo: Drew Anthony Smith/Getty Images
Four bombs have exploded in Austin, Texas, this month, killing two and injuring several others. The victims in two of those bombings were members of locally prominent African-American families, who were killed after picking up explosive packages that were by their homes. This sparked fears that the attacks were racially motivated. The most recent bombing, however, appeared less discriminating in its choice of victims — and more sophisticated in its construction — than those that had preceded it: On Sunday night, an explosive device left by the side of a residential road injured two people who happened to trigger its trip wire.
Now, it looks like the suspected serial bomber might have switched up his or her method yet again. Early Tuesday morning, a package filled with shards of metal and nails exploded at a FedEx center near San Antonio — and, according to local reports, the box was bound for Austin. One employee of the delivery company suffered minor injuries from the explosion.
The FBI's office in San Antonio told CNN Tuesday that they "suspect it is related to our investigation" into the Austin bombings. Nevertheless, as of this writing, authorities have not yet determined that this bombing is connected, or that all of this month's bombings were carried out by the same perpetrator or perpetrators (as opposed to by copycats, or unrelated individuals). But if this is the work of a serial bomber, then the criminal appears to be growing more ambitious (and/or reckless) in his or her methods, as none of the previous explosive packages were sent through the mail.