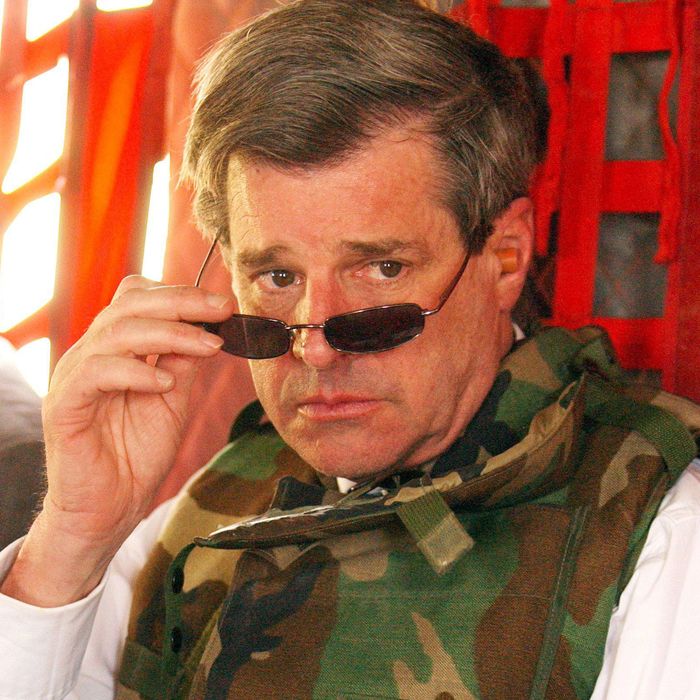 Bremer in Iraq.
Photo: REX/Shutterstock
Paul Bremer was a powerful U.S. diplomat for about two decades, and a high-flying consultant after that. But he's best known for his role immediately after the U.S. invasion of Iraq in 2003, where he was given broad power as a civilian authority by George W. Bush, and proceeded to make a series of decisions that are widely acknowledged to have hastened the country's descent into chaos and near civil war. In the last several years, as Iraq continues to negotiate the fallout from America's catastrophic invasion, Bremer has largely faded from public view, his harsh legacy as a foreign-policy bungler largely secured.
Task and Purpose's Aaron Gell discovered what he's been up to recently, and it's … well, not what you'd expect. Bremer is currently teaching skiing at a Vermont resort five days a week.
Bremer seems content in his new life, displaying the brisk certitude that was a hallmark of the Bush administration. He has seemingly no regrets, believes he did nothing wrong in Iraq, and thinks he will eventually be vindicated in his approach. As Gell puts it, he has "spent the last decade and a half patiently waiting for history to finally render a favorable judgment."
Bremer is also philosophical about his standing as a villain. "It's not a very pleasant experience," he says. "But I had seen enough of high-level people getting hung out to dry during my Washington tours. It happens."
For every vigorous criticism of him, though, Bremer has a ready rebuttal. To those who point to his order, on his fifth day in Iraq, to outlaw members of Saddam Hussein's Baath party from securing top jobs — a move that many believe led to political retribution and general upheaval in the early days of the occupation — Bremer claims it wasn't really his idea at all. To those who criticize his even-more-panned decision to dissolve the Iraqi Army altogether, Bremer claims the army had already disbanded itself by the time he got to Iraq.
Given how disorganized the invasion plan was, and how many misguided priorities were clashing at the time, some of Bremer's claims do have merit. And, as Gell points out, most of the people who actually spearheaded the disastrous invasion — Donald Rumsfeld, Colin Powell, President Bush himself — have been rehabilitated in the public eye, or at least handed sinecures at prestigious think tanks, as Bremer twists in the wind.
But it's still jarring to learn that as Iraq struggles to rebuild itself from years of bombings, killings, the rise and fall of ISIS, and all the rest of its trauma, one of the people most responsible for the country's 21st-century misery is getting paid to glide down a snowy mountain.