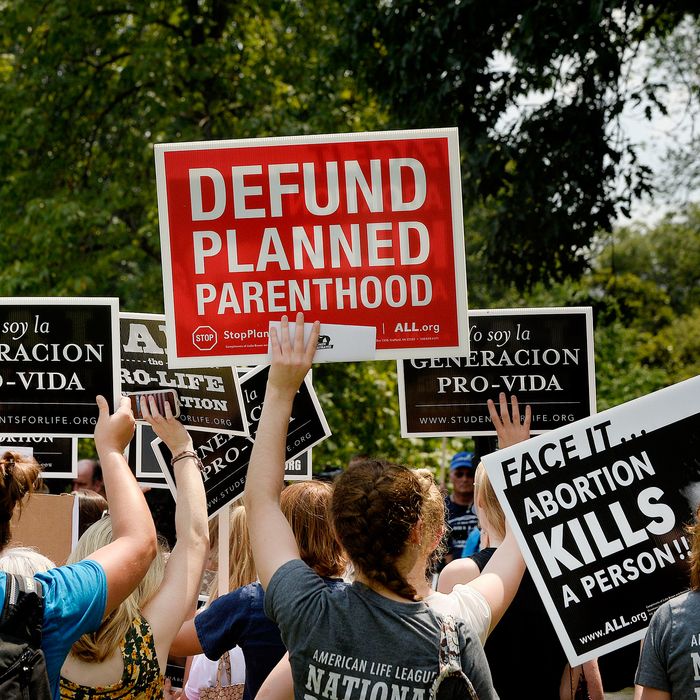 It's back! The demand to defund Planned Parenthood is again wreaking havoc on Washington.
Photo: Olivier Douliery/Getty Images
Here we go again.
Just when it looked like the final, omnibus appropriations bill designed to implement Congress's two-year budget deal would float through the process by the March 23 deadline without a lot of drama, an old conservative deal-breaker is back, as Politico reports:
House Republicans are demanding a series of controversial abortion and health care policies in the annual health spending bill, setting up a showdown with Democrats and threatening passage of an omnibus spending package to keep the government open.




Democrats are vowing to block the slew of long-sought conservative priorities. The riders would cut off federal funding to Planned Parenthood, eliminate a federal family planning program and ax the Teen Pregnancy Prevention Program, according to sources on Capitol Hill. Republicans also want to insert a new prohibition on funding research that uses human fetal tissue obtained after an abortion.
It's the Planned Parenthood defunding — this time expanded beyond Medicaid to any federal money — that's the bright, flashing red light. It's something that the anti-abortion lobby began selling to congressional conservatives as a must-have initiative back during the largely contrived controversy over the women's health group's alleged support for late-term abortions in order to harvest fetal tissue for sale, which blew up in 2015 and became the main reason congressional Republicans nearly shut down the federal government that fall.
Since then, the defunding demand has become a regular feature of Republican politics. But it's generally been understood that it was only going to happen via some vehicle that's not vulnerable to a Senate filibuster. And that's why in 2017 right-to-life types agreed with House Speaker Paul Ryan's suggestion that defunding language be left out of appropriations bills and instead inserted into a filibuster-proof budget-reconciliation bill. After a back-and-forth struggle with the Senate parliamentarian over the germaneness of the defunding demand to a budget bill, the whole effort went down along with the failed attempt to repeal and replace Obamacare.
There was then some saber-rattling from the anti-abortion lobby demanding that Republicans find some way to put their defunding bill into the second budget-reconciliation package, focused on tax cuts. But the germaneness problem loomed even larger there, and in the end, the GOP legislators had to drop even a more modest RTL measure allowing tax-preferred savings for the unborn.
That brings us up to 2018. And you have to figure no one was angrier at the brusque decision of congressional Republicans to forego any further budget legislation in this election year than the anti-abortion folks, who saw their one likely vehicle for achieving their foremost aim vanish.
You have to figure that's why the Planned Parenthood defunding measure (along with some other anti-abortion zingers) popped up again in the appropriations process. That's really the only avenue left for dealing with it in a way that gave the RTLers some big hostages (i.e., every other item in the vast omnibus appropriations bill). But it came as something of a surprise nonetheless:
Those sudden demands stunned the top Democrats in the room, Rep. Rosa DeLauro (D-Conn.) and Sen. Patty Murray (D-Wash.), who until then thought they were having productive talks with their GOP counterparts.




Rep. Tom Cole (R-Okla.), who leads the House Labor-HHS spending panel, has acknowledged that a delay in talks could force another short-term spending patch. Congress must approve new government funding by March 23 or risk a third shutdown this year.
In other words, Cole is signaling that the demands of the anti-abortion lobby could make his party bend the knee, even if it risks another government shutdown. The odds of Democrats going along with this demand are virtually nil. But even if the RTLers don't get their way, they may for sure insist on another big and dangerous gesture of GOP loyalty to the Cause.
As we speak, it's likely that GOP leaders are trying to work out some alternative concessions, perhaps involving executive actions from the Trump administration, perhaps extending to budget legislation next year. But anti-abortion activists know as well as anyone that there may not be a firm Republican majority in the House next year to move the ball forward on their priorities. So they could just decide that they have little to lose by going to the mats. And it could all get ugly.