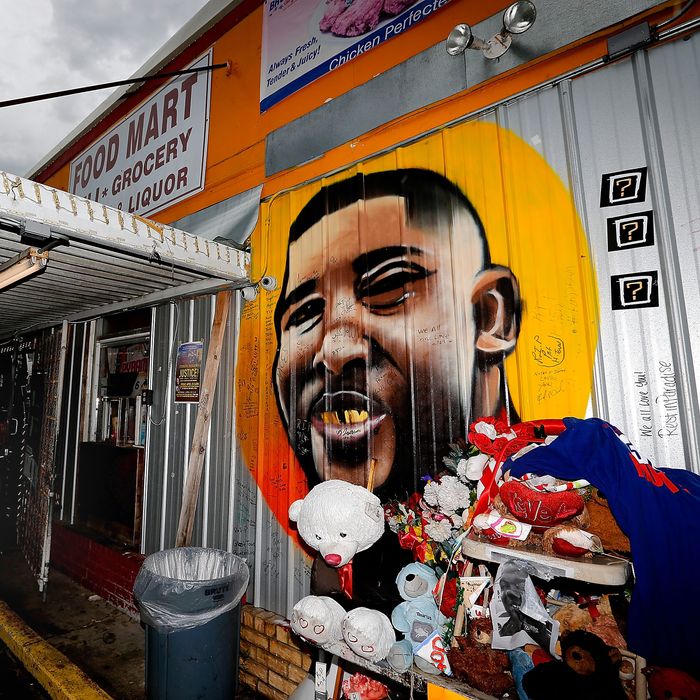 A mural of Alton Sterling.
Photo: Sean Gardner/Getty Images
The police officers involved in the fatal shooting of Alton Sterling in 2016 will not be charged with a crime, the Louisiana attorney general Jeff Landry announced on Tuesday.
"This decision was not taken lightly," Landry said. "We came to this conclusion after countless hours of reviewing the evidence."
Sterling, who was black, was shot and killed by a white officer outside a convenience store on July 5, 2016, amid a string of similar police shootings around the country that sparked widespread protests. Disturbing cell-phone footage of the incident quickly ricocheted around the internet.
A homeless man had called police after Sterling reportedly brandished a gun outside the store. Landry's report said that surveillance footage shows him carrying the weapon, but the video hasn't been released.
When officers Howie Lake and Blane Salamoni arrived, Sterling was selling CDs outside the store, as he often did. According to the attorney general's report, Sterling refused orders to put his hands on the hood of a car, and officers wrestled him to the ground.
The report also says that the officers Tased Sterling repeatedly before the shooting, but that the shocks had little effect on him, perhaps because he had been using drugs.
In a familiar story line with such cases, the officers say Sterling was reaching for his gun — a contention that witnesses dispute. Salamoni reportedly yelled at Sterling that he would shoot if Sterling moved. He then shot Sterling three times as he was allegedly reaching for his firearm, and another three times as he rolled to his left.
After the shooting, the officers were placed on paid administrative leave.
The lack of charges hardly come as a surprise. If the last few years have proven anything with respect to police killings, from Eric Garner to Daniel Shaver, it is the difficulty of charging cops with crimes, much less convicting them.
"They're not going to bring charges on anybody. Why would they do that? This is white America," Sterling's aunt, Veda Washington, said.
Last year, the Department of Justice decided not to press federal civil-rights charges against the officers.
But the case isn't over. Baton Rouge mayor Sharon Weston Broome said that the city would now investigate the shooting separately.
Sterling's five children also filed a wrongful-death lawsuit against the officers last year.