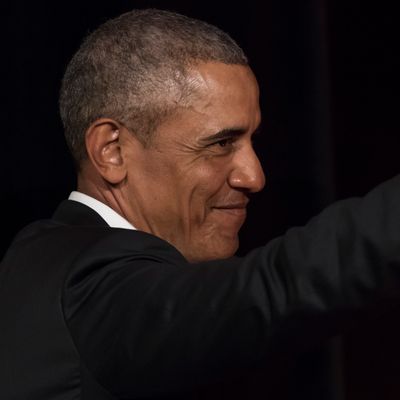 Remember me?
Photo: James D. Morgan/Getty Images
As hundreds of thousands of people streamed across cities worldwide to protest gun violence in America, many Democratic politicians enthusiastically embraced their cause, while most Republicans maintained conspicuous silence.
As of midafternoon on Saturday, President Trump, who is in Florida, had not weighed in on the march. His only tweet during the day focused on Friday's terrorist attack in France. However, the White House did indicate some support for the march. White House spokesperson Lindsey Walters said, "We applaud the many courageous young Americans exercising their First Amendment rights today."
Making its way from Mar-a-Lago to Trump International Golf Club, where Trump engaged in his favorite weekend activity, the president's motorcade took an unusual route, seemingly in an effort avoid a March for Our Lives protest in West Palm Beach. That was one of about 800 such events around the world.
On Friday, the Trump administration announced its plan to ban bump stocks, instruments that modify a semi-automatic rifle into an automatic one. This may have counted as a small-bore gesture of good will toward the protesters, but even if the planned regulation becomes law, it will have little effect on everyday gun violence.
In a tweet, Trump's predecessor provided a stark contrast in attitude toward Saturday's protests:
And many prominent Democrats attended rallies in their home states and Washington, proudly marching with the protesters and snapping pictures.
Republican officials, not surprisingly, chose mostly to let the afternoon pass without comment.
One GOP official who did weigh in was Florida Senator Marco Rubio, an NRA devotee who has been in the spotlight about his gun views — often willingly so — since the mass shooting at Marjory Stoneman Douglas high school last month.
In a statement, Rubio claimed that protesters were marching in favor of a "gun ban" (they weren't), but commended them for exercising their First Amendment rights. He said that "in our system of government, making a change requires finding common ground with those holding opposing views," pointing to recent changes to the law, like minor upgrades to federal background-check systems and the bump-stock ban, as the fruits of such compromise.
But positioning himself as middle-of-the-road disguises Rubio's hardline history. For example, he was one of 45 Senators who voted against universal background checks, a law that enjoys overwhelming support among Americans. in the aftermath of the Sandy Hook massacre.