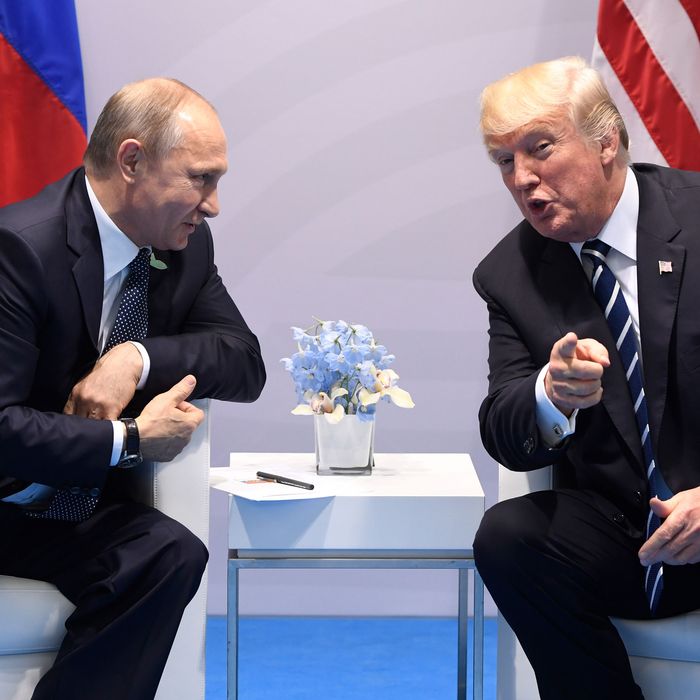 Donald Trump and Vladimir Putin, who have never met and shared no interests whatsoever in the outcome of the 2016 election.
Photo: Saul Loeb/AFP/Getty Images
House Republicans have barely even pretended to investigate Russia's efforts to interfere in the 2016 elections, and now even the bare pretense is coming to an end. The GOP majority is releasing a report that will declare no collusion took place between Russia and the Trump campaign. Indeed, the report will go even farther and insist Russia did not even want to help Trump win at all, contradicting the assessment of U.S. intelligence.
This outcome was completely predictable from the outset, when the committee's chairman, Devin Nunes, snuck off to the White House late at night to produce an explosive but eventually debunked charge that Trump had been the victim of nefarious "unmasking" by Obama officials in 2016. Nunes continued to churn out explosive but false countercharges depicting the Russia investigation as a Deep State conspiracy against the completely innocent Trump campaign.
The House GOP investigation failed to interview Manafort, or his partner Rick Gates, or Michael Flynn, or George Papadopoulos, all of whom have been indicted by Robert Mueller, and the latter three of whom are cooperating with his investigation. Representative Mike Conaway, the Republican heading the investigation in the wake of Nunes's quasi-recusal, admitted last week, "I don't have any clue who George Nader is." Nader has been the subject of two front-page New York Times stories linking him to a secret post-election meeting between Trump and Russian officials.
But the House Republican investigation is not going to exert itself to extreme measures like learning the names of major figures involved in the case. Even publicly available evidence, like the 2016 Trump Tower meeting in which leading campaign officials eagerly met with a Russian promising dirt on Hillary Clinton, or the public boasting by Papadopoulos that the campaign had obtained Russian dirt on its opponent, have failed to move his allies in the lower chamber. Trump was just a big-hearted business tycoon who wanted to help some Russian orphans and maybe give down-on-his-luck lobbyist Paul Manafort a job (unpaid). For all that, they seem to believe, he has been smeared by the notoriously left-wing American intelligence apparatus as a dupe for a foreign country that didn't even necessarily want him to win the election!
Alternatively, if you want Congress to hold a real investigation, or any oversight whatsoever over the Executive branch, you need to hope Democrats win the midterm elections.