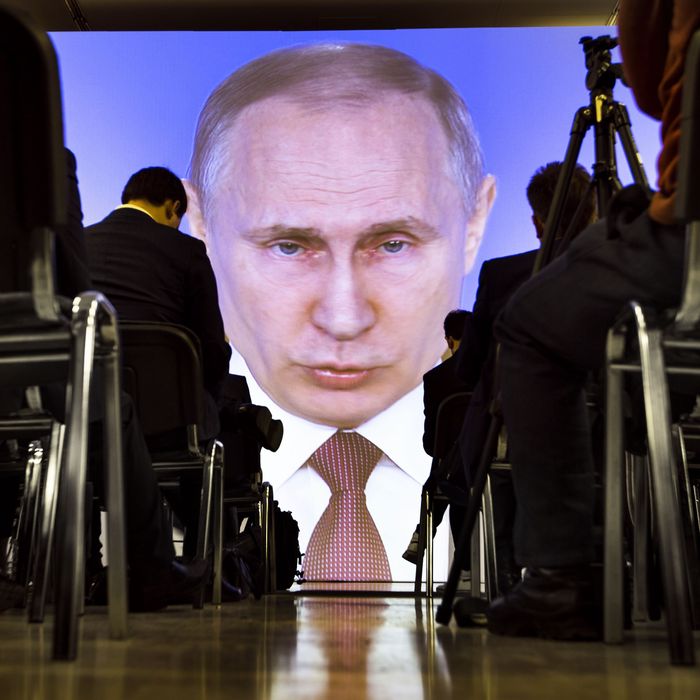 Russian president Vladimir Putin gives his annual state of the nation address.
Photo: Alexander Zemlianichenko/AP/REX/Shutterstock
Russian president Vladimir Putin touted the country's growing military might in his annual state of the nation address Thursday, introducing a series of new "invincible" weapons that he assured would only be used if Russia is attacked first.
"We've never had an intention of attacking anybody," he said. "Russia will only retaliate if it is attacked."
Among the weapons were underwater drones capable of delivering nuclear weapons and a cruise missile with "unlimited" range and the ability to elude missile defense systems. "The range is unlimited. It can maneuver for an unlimited period of time," Putin said of the weapon, which is powered by a "nuclear-power energy unit."
"No one in the world has anything similar," he added.
Putin, who is up for reelection in March, used colorful language to describe the weapons, describing a missile capable of flying at 20 times the speed of sound like this: "It comes to targets like a meteorite; like a burning sphere."
Though he at one point called the weapons a "reliable guarantee of peace on Earth," Putin framed their development as a response to the U.S. "We are creating state-of-the-art systems for Russia's strategic weapons in response to the unilateral U.S. withdrawal from the ABM Treaty," Putin said, referring to the 2001 decision by George W. Bush to pull out of the 1972 Anti-Ballistic Missile Treaty.
Putin's announcements were also seen as a response to moves by the Trump administration to advance the U.S. nuclear arsenal, which include plans to develop sea-based nuclear weapons that could target Russia.
And if Putin didn't make it clear in his speech that Russia's advancing nuclear arsenal is meant to get the attention of leaders in the U.S., an animated video showing one of the weapons at work certainly did. Though it was brief, the video unmistakably shows nukes being dropped on Florida, Trump's home away from home.