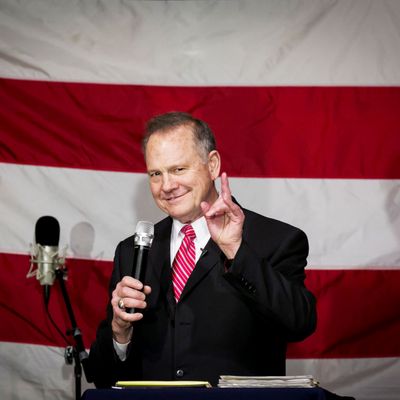 Roy Moore.
Photo: Nicole Craine/Bloomberg via Getty Images
The Washington Post reported on Friday that two supporters of Roy Moore, the erstwhile Republican Alabama Senate candidate who was accused of sexually assaulting teenage girls, tried to convince one of his accuser's attorneys to drop the case and publicly disavow his client in exchange for money, favors, and exposure to Steve Bannon. The brazen strategy went as follows:
They asked lawyer Eddie Sexton to drop the woman as a client and say publicly that he did not believe her. The damaging statement would be given to Breitbart News, then run by former White House strategist Stephen K. Bannon.




In exchange, Sexton said in recent interviews, the men offered to pay him $10,000 and promised to introduce him to Bannon and others in the nation's capital.
Sexton represented Leigh Corfman, whose allegation that Moore initiated a sexual encounter with her when she was 14 and he was 32 upended the Senate race. Moore ended up losing to Democrat Doug Jones in December.
Strangely, the two men, Bert Davi and Gary Lantrip, business partners in a construction firm, are clients of Sexton's in another, unrelated case. Davi had also known Bannon for years, though it's not clear how.
Davi and Lantrip approached Sexton with their offer, and later arranged a meeting between Sexton and two Breitbart reporters, Washington bureau chief Matt Boyle and Jerusalem bureau chief Aaron Klein. The reporters presented him with a written statement disavowing his own client, which Sexton refused to sign. Instead, he told multiple people about the shady goings-on, including a federal prosecutor. The lawyer said it did not constitute a federal crime.
Davi and Lantrip acknowledged playing a role in the scheme, but deflected questions about paying Sexton off.
"Our effort was really to let the truth come out," Davi said.
Roy Moore claims that he knew nothing of the plan. "I nor anyone else in the campaign offered anyone money to say something untrue, nor did I or anyone else authorize someone else to do such a thing," he wrote to the Post.
A spokesperson for Breitbart said that the reporters didn't know anything about paying Sexton, nor who wrote the statement Sexton was meant to sign. These claims are hard to square with Sexton's contemporaneous accounts of the events.
At the time, Breitbart was still run by Bannon, who pushed Moore relentlessly on the site as the kind of populist, Trump-like insurgent who could reshape Washington. The election had huge implications for Bannon, who at the time was pushing a slew of insurgent candidates to challenge established Republicans around the country.
Since Moore's defeat, Bannon's role in domestic politics has greatly diminished, and his plans for national domination have fizzled. His role as a source in Michael Wolff's book Fire and Fury, in which he leveled harsh criticisms against President Trump's children, prompted the president to excoriate him and his benefactors to jettison him from Breitbart. Recently, he undertook a European tour, meeting representatives of various extreme right-wing factions and telling members of France's National Front not to apologize for their racism.
Doug Jones, meanwhile, gave his first speech to the Senate floor on Wednesday.