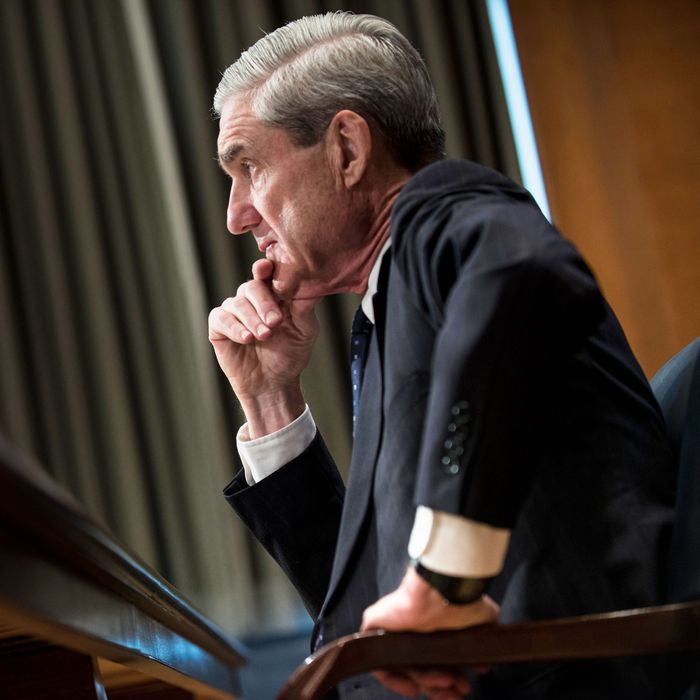 Wily.
Photo: Brendan Smialowski/AFP/Getty Images
Bloomberg reports that Special Counsel Robert Mueller may temporarily cast aside the obstruction of justice section of his investigation in order to prevent witnesses in the ongoing inquiry from ceasing to cooperate — and to ward off against the president trying to end it altogether.
According to several anonymous current and former U.S. officials, Mueller may instead focus, for now, on other areas of the investigation into election interference, such as possible collusion between the Trump campaign and Russia, a charge the president has vociferously denied.
Mueller has reportedly almost wrapped up the obstruction phase of the investigation, but his team is still negotiating to conduct interviews with key figures, including Donald Trump Jr. and the president himself. Those conversations would likely cover some of the incidents that may rise to the level of obstruction, which include the president's firing of former FBI Director James Comey last May.
The president's legal team, fearful that Trump will incriminate himself and/or ramble unhelpfully, has been increasingly cool to the idea of a sit-down, and have begun floating nigh-on-impossible conditions for such a tête-à-tête. Last week, his lawyers floated the (comic) notion of agreeing to a presidential interview if Mueller promised to wrap up the portion of his investigation dealing directly with the president within 60 days.
Bloomberg reports that even if Trump does testify, Mueller may keep the testimony under his hat for the time being, instead pursuing the many other threads his team of prosecutors is attempting to unravel.
The investigation has branched well beyond questions of obstruction of justice and collusion. Mueller's team has indicted 13 Russians accused of interfering in the 2016 election; charged Rick Gates and Paul Manafort with various counts related to overseas money laundering; busted the ex-national security adviser and now-cooperating witness Michael Flynn for making false statements to the FBI; and more.
The insight into Mueller's thinking is rare. His team of investigators has become known for its cone of silence, which is unusual even for the most sensitive matters in Washington. Whether the apparently telegraphed strategy makes it more or less likely for Trump and his team to cooperate — or to do something drastic — is tough to say.
Talk of Trump attempting to fire the special counsel has died down somewhat in recent months after hitting a peak last summer, when the president reportedly tried to actually make it happen, then backed down after White House Counsel Don McGahn refused. (This incident itself is another focus of the obstruction of justice phase of the investigation.)
But after a concerted effort to trick Trump into believing that the investigation would wrap up any minute now, Trump's personal lawyer Ty Cobb may be on his way out of the administration, and his legal team as a whole seems to be getting  increasingly desperate. This state of affairs may leave the president even less constrained than usual if he feels the investigation is getting too close to him.