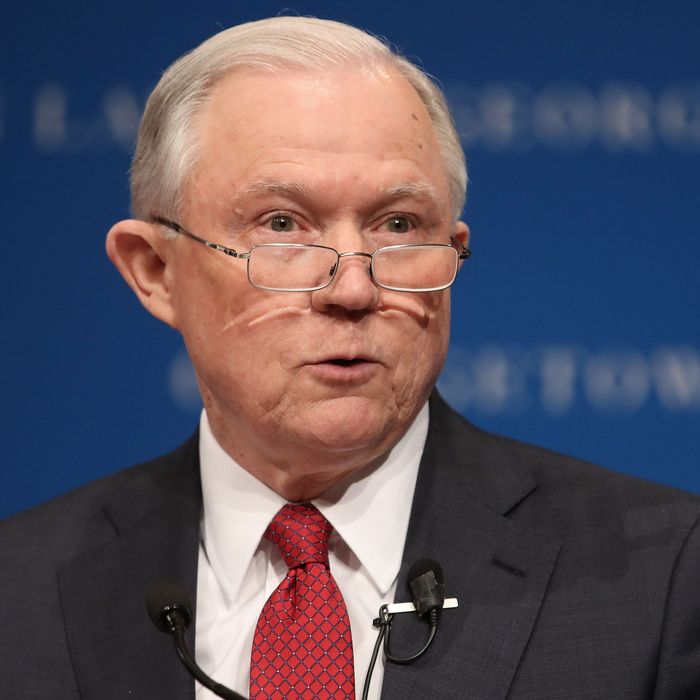 Oops, I did it again.
Photo: Win McNamee/Getty Images
On Friday night, Attorney General Jeff Sessions fired Deputy FBI Director Andrew McCabe two days before his retirement, purportedly over McCabe's lack of "candor" regarding the Hillary Clinton email investigation.
One reason this explanation raised so many eyebrows is that Sessions has such a complicated relationship with the truth himself.
On Sunday, Reuters reported that three sources have contradicted Sessions's claim, made under oath, that he opposed a Trump campaign plan to meet with Russians during the 2016 campaign.
The sources told Reuters that they had spoken to Special Counsel Robert Mueller or congressional committees investing Russian electoral interference about the discrepancy between what Sessions told Congress and what they recall.
A fourth source had told Reuters last year that Sessions opposed the meeting, and said on Sunday that he stood by that statement.
Testifying in November 2017, Sessions informed the House Judiciary Committee that he had "pushed back" on the idea of the Russian sit-down, which was proposed at a Trump campaign meeting by former adviser George Papadopoulos on March 31, 2016.
That gathering was captured in a photo, which helped puncture Trump's later claim that Papadopoulos was merely a "low-level adviser" on his campaign.
Weeks later, in April 2016, an academic with high-level connections to Russia told Papadopoulos that the Russian government had access to hacked Hillary Clinton emails. Papadopoulos divulged this information to an Australian diplomat at a London bar in May 2016, in a conversation that set in motion the FBI investigation into Russian electoral interference.
Throughout the spring of 2016, Papadopoulos continued to reach out to Russian sources to try to arrange a meeting between Trump and Russian officials, but was shot down by the campaign.
In October, he pleaded guilty to making false statements to the FBI about his contacts with the Russian government. He has been cooperating with Mueller since his arrest in July.
Sessions has been slippery — to put it generously — about Russia before. During his confirmation hearings last year, he said that he was not aware of any meetings between Trump campaign officials and representatives of the Russian government, neglecting to mention two meetings he had with Sergei Kislyak, the Russian Ambassador to the U.S. Sessions claimed that he had met with Kislyak in his capacity as a U.S. Senator, not as a Trump surrogate. He later claimed that the meetings in question did not involve campaign-related issues — a version of events contradicted by Kislyak himself.
Sessions's duplicitousness led to his fateful recusal from the Russia investigation, paving the way for Mueller's appointment.
But remember, when it comes to firing political enemies of President Trump, the attorney general is deeply concerned about honesty.