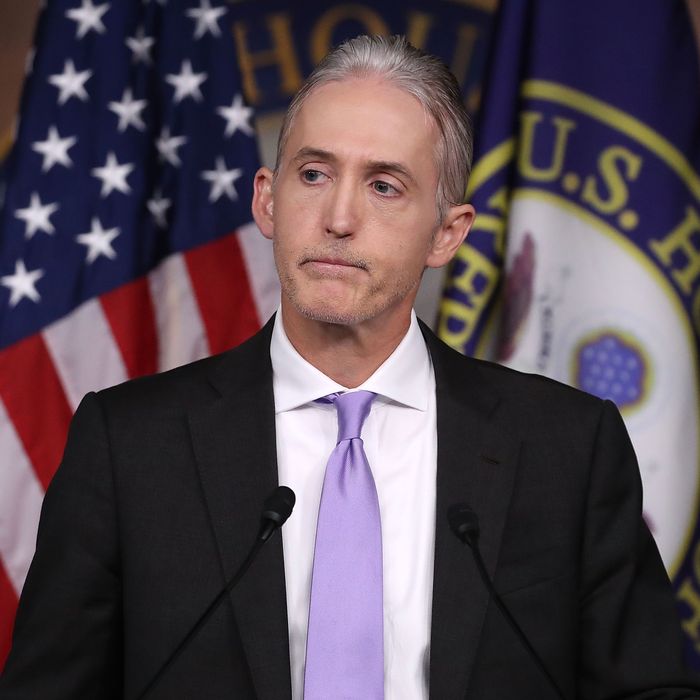 GOP congressman Trey Gowdy.
Photo: Mark Wilson/Getty Images
On Sunday, Republican lawmakers began offering their responses to President Trump's escalating rhetoric against special counsel Robert Mueller and the Russia investigation, but most still seemed willfully careless regarding the threat. In the morning, Trump went after Mueller personally for the first time, an important milestone in his efforts to discredit the investigation. That followed a new comment from Trump's personal lawyer, John Dowd, calling for Mueller to be dismissed, and the controversial firing of former FBI deputy director Andrew McCabe — a move which Trump has been heavily celebrating. Taken together, the president may finally laying the groundwork for firing Mueller and ending the investigation into Russia's 2016 election meddling. The assorted reactions of several GOP lawmakers are collected below.
One of the Republican Party's few consistent Trump critics, Senator Jeff Flake, said during an appearance on CNN's State of the Union that he was expecting his fellow lawmakers to push back on Trump's attacks on Mueller.  "Talking to my colleagues all along it was, you know, once he goes after Mueller, then we'll take action," Flake claimed, though it seemed more like an optimistic expectation than a sober prediction:
I don't know what the designs are on Mueller, but it seems to be building toward that. And I just hope it doesn't go there, because it can't. We can't, in Congress, accept that. And so I would expect to see considerable pushback in the next couple days in urging the president not to go there. He can't go there. 
Regarding McCabe, Flake said that Congress would have to look at the inspector general report which supposedly prompted his firing, but he had his suspicions. "I'm just puzzled by why the White House is going so hard at this," speculating that they might be "very afraid of what might come out."
He added that he hoped House Speaker Paul Ryan and Senate Majority Leader Mitch McConnell would come to Mueller's defense as well.
Speaker Ryan eventually did release a statement on Sunday, repeating his standard position that "Mr. Mueller and his team should be able to do their job."
Also on State of the Union, another repeat defender of Mueller, Senator Lindsey Graham, repeated his prediction that if Trump fired the special prosecutor, it "would be the beginning of the end of his presidency." Graham said that "we're a rule of law nation," and pledged to do whatever he could to make sure Mueller could finish his investigation unimpeded, explaining that "the only reason that Mr. Mueller could be dismissed is for cause," and he sees none.
Graham additionally called for the Senate Judiciary Committee to hold a hearing on the firing of McCabe:
I think we owe it to the average American to have a hearing in the Judiciary Committee, for Mr. Sessions, Attorney General Sessions, comes forward with whatever documentation he has about the firing and give Mr. McCabe a chance to defend himself. I believe when it comes to this issue, we need as much transparency as possible, to make sure that it was not politically motivated.
Republican congressman Trey Gowdy was on Fox News Sunday to defend the recent conclusion of the GOP-controlled House Intelligence Committee that there was no collusion between Russia and the Trump campaign — news that Trump has already been leveraging to try to discredit Mueller's investigation. Gowdy told host Chris Wallace that he hoped that Trump was not getting ready to fire Mueller, and said that Dowd did the president a "disservice" by suggesting that the Mueller investigation should should now be ended.
"If you have an innocent client, Mr. Dowd, act like it," he added, later giving the same advice to Trump, explaining that "if you've done nothing wrong, you should want the investigation to be as fulsome and thorough as possible."
Regarding what the consequences Trump would face from Republicans if he did fire Mueller, Gowdy said he wasn't sure "the House could do a lot," but that the president should understand that if he did take out Mueller, it would be a "very very long, bad 2018." In other words, Gowdy didn't say what the GOP would do, if anything, in response to Trump firing Mueller.
Furthermore, Gowdy acknowledged that the House Intelligence Committee's investigation of Russia's election meddling should not be the last word on the issue — the Mueller investigation's conclusion should be.
"Executive Branch investigations have more credibility, they have more tools and that's what I think my fellow citizens ought to be waiting for and have confidence in," Gowdy said, explaining that if Mueller "finds stuff, more power to him." Representative Michael Conaway, who led the House Intelligence Committee Russia investigation, also seemed to downplay their no-collusion conclusion during his appearance on Meet the Press on Sunday. Like Gowdy, he acknowledged that they didn't get to interview all the key witnesses, and repeatedly emphasized that they had found no evidence of collusion, which didn't necessarily mean there hadn't been any.
On CNN's State of the Union, Senator Rand Paul seemed to indicate that he wouldn't be too upset if Mueller got fired. "I wouldn't advocate it," Paul told host Jake Tapper, but explained that he would have never advocated for Mueller's appointment in the first place, since special prosecutors "have too much power to do whatever they want."
"When they're looking at people's tax returns from 20 years ago, I really think that the power is so unlimited that it's worrisome for the people on the receiving end," he explained, and called for broad reforms that would prevent any federal law enforcement official from launching an investigation without first getting approval from a judge.
Senator James Lankford, a GOP member of the Senate Intelligence Committee, didn't seem to take the threat of Mueller being fired seriously during an appearance on ABC's This Week. He characterized Dowd's comment as typical lawyer rhetoric, and said that he believed the White House's position that Trump does not want to fire Mueller, and so GOP lawmakers shouldn't need to worry about how to deal with that. (Chris Christie made an almost identical point later on the program, as well.)
Lankford called Mueller's efforts very helpful thus far, but he also echoed Trump's early morning tweetstorm in saying that he thought it was "odd the number of Democrats that he's put on board his team," and that it raises "some red flags in some sense." But either way, "it's best for the special counsel to be able to go through their process, it's best for the president, best for the presidency, for this to be resolved and to be finished one way or the other."
And Senator Marco Rubio was Sunday's lone Republican voice objecting to McCabe's firing, or at least how it was carried out. He said on Meet the Press that he didn't agree with the decision to fire McCabe two days before his retirement and pension took effect. "I don't like the way it happened," Rubio said, adding that McCabe should have been allowed to finish the weekend, and that regarding Trump's repeated attacks on McCabe, "We need to be very careful about taking these very important entities and smearing everybody in them with a broad stroke."
On Mueller's investigation, Rubio said that he supports "going wherever the evidence and wherever the facts take us." He's not the only Republican still looking to wait and see.