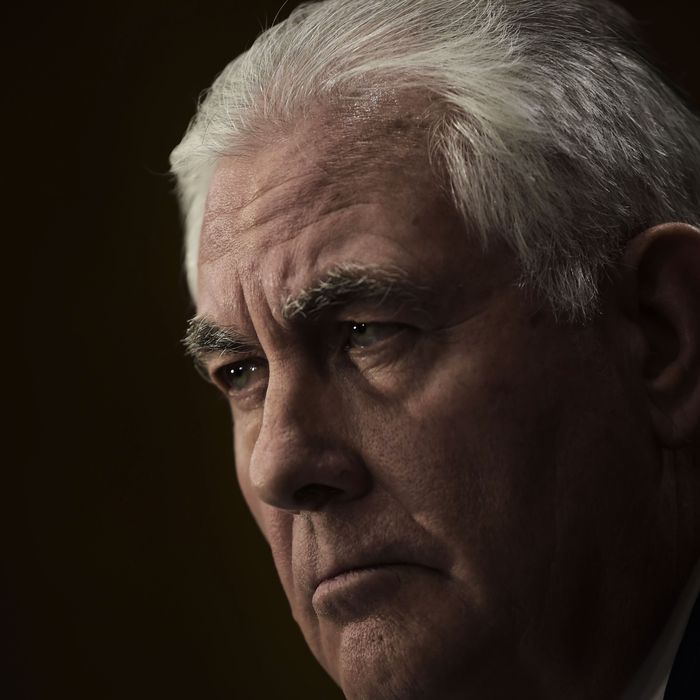 Rex Tillerson.
Photo: Brendan Smialowski/AFP/Getty Images
The president loves to tweet. He loves to roll over at 5:45 a.m., flip on Fox News, pull out his tweeting device, and blast off a few primo thoughts about whatever he sees on TV. It's 2018, and the president is tweeting, and millions of people sit on pins and needles, wondering what hypocritical, incorrect, or incriminating thing he's gonna tweet next. One of those millions of people? Former secretary of State Rex Tillerson, who got fired this morning.
According to a new report from the Associated Press, Tillerson was informed on Friday to keep an eye out for a tweet from @realDonaldTrump:
Two senior department officials said Tillerson received a call from John Kelly, Trump's chief of staff, on Friday, but was only told that there might be a presidential tweet that would concern him. Kelly didn't tell Tillerson what the tweet might say or when it might actually publish, according to the official, who wasn't authorized to speak publicly on the matter and demanded anonymity.
The newest instance of Trump cyberdread follows the nine-minute gap between two tweets last summer when the Pentagon thought Trump was about to declare war.