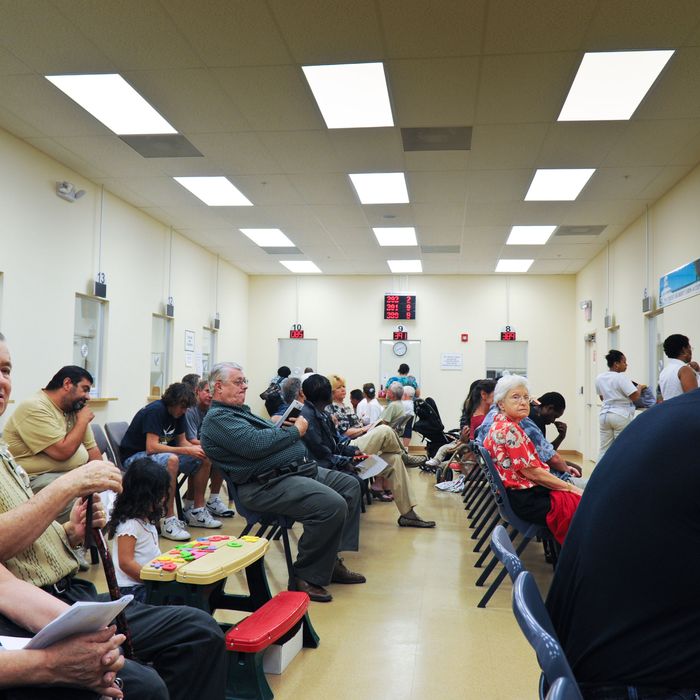 Imagine going to the DMV, except instead of renewing your tags, you're asking permission to look at pornography.
Photo: Thad/Getty Images
It's been well-documented that the rise of "tube" sites at the turn of the decade, where users can watch pornography for free, has decimated the adult-film industry. No longer was porn locked behind paywalls; instead sites like Pornhub have become wildly popular (and, thanks to a savvy PR team, eager to offer up insight into the sexual proclivities of online porn viewers).
Rhode Island Democratic state senators Frank Ciccone and Hanna Gallo likely don't care about restoring porn sites to their former glory days, but they do seem eager to have people pay for porn online again: The duo has introduced a piece of legislation that, if passed, would require all ISPs operating in Rhode Island to block "sexual content" and "offensive" content by default — unless ISP users were willing to provide proof that they were 18 and pay a one-time fee of $20 (the money would go to the state's commission on human trafficking).
Ciccone and Gallo's law is pretty broad in defining the term "sexual content," deeming it anything that runs afoul of the Rhode Island State statute that deems sexual content as anything that shows the "act of sexual intercourse, normal or perverted, actual or simulated" as well as masturbation. Ciccone and Gallo's law would also require ISPs to block access to "patently offensive material," which is termed as anything "so offensive on its face as to affront current standards of decency." Two other statutes in the law would also require ISPs to block access to any site set up for the purposes of facilitating prostitution, as well as any site hosting child pornography (which is, of course, an international crime already — though ISPs have traditionally not been on the hook for preventing it).
Want to look at adult content? Ciccone and Gallo's law would have you submit a request in writing that you be allowed to look at adult content, present identification proving that you are 18 or older, get a written warning about the dangers of being allowed to look at the unfiltered internet (which, as someone with a brain poisoned by too much online content, fair enough), and pay the state $20.
Enforcing this law would be extremely difficult, to say the least. There are somewhat reliable lists of adult sites kept by companies that help parents keep porn away from their kids that ISPs could rely on, and content filtering in general is somewhat sophisticated in keeping kids away from truly foul stuff while still allowing them on Wikipedia for a science project. The problem comes from the section about anything "so offensive on its face as to affront current standards of decency," language which is wildly imprecise. Not only does it closely mirror a section of the 1996 Communications Decency Act about "patently offensive" material that the Supreme Court eventually struck down due to being overly broad and vague, but it just boggles the mind at who, exactly, would be in charge of deciding where the line falls. Does photography from a war zone count? Video of knee surgery? Would half of fanfiction.net suddenly be verboten in Rhode Island?
To date, the United States has made its uneasy peace with smut online by placing the burden on website operators themselves, not ISPs. Under current net-neutrality rules, it's illegal to require an ISP to block access to lawful content. Then again, Ajit Pai and the FCC have recently moved to repeal those laws.
More broadly, there are ten ISPs that currently operate in Rhode Island. Would each be responsible for setting its own standards as to what it blocks and doesn't block. Would getting my broadband via Verizon Fios mean I can look at the Egon Schiele paintings, but Comcast would shut me down?
The law does carry some teeth: If any ISP was found to be in violation of the law, the attorney general can file a civil suit where the ISP would face fines of up to $500 for each piece of content reported, but not blocked. It's not hard to imagine a scenario where an enterprising attorney general could find one objectionable site left unblocked and sue an ISP for an astounding amount. Even a site that hosted only, say, 100,000 pieces of content (Pornhub, for comparison, currently hosts 5 million videos) would mean a $50 million fine for the ISP. Any ISP operating in Rhode Island underneath such a law would take the smart course and simply clamp down any and all content that in any way could be construed as offensive. (Under the proposed law, users who think something like, say, the pictures of Robert Mapplethorpe shouldn't be banned would simply report to "a call center or reporting website" where, if the content is deemed kosher, it would be unblocked within five days of the initial report. Easy peasy!)
Ciccone and Gallo's bill has been referred to the Senate Judiciary Committee, a place where, traditionally, legislation goes to languish and die.
It's easy to mock Ciccone and Gallo's legislation; it's a remarkably inept piece of lawmaking that stands little chance of passing and even less chance of standing up in court on any sort of legal challenge. But we are in a strange new age now where hard-core streaming pornography is easily available to young kids — and nobody seems quite sure what effect (if any) it'll have on them. Ciccone and Gallo's law is laughable, but it's an attempt to regulate something that remains a source of deep anxiety for many parents.