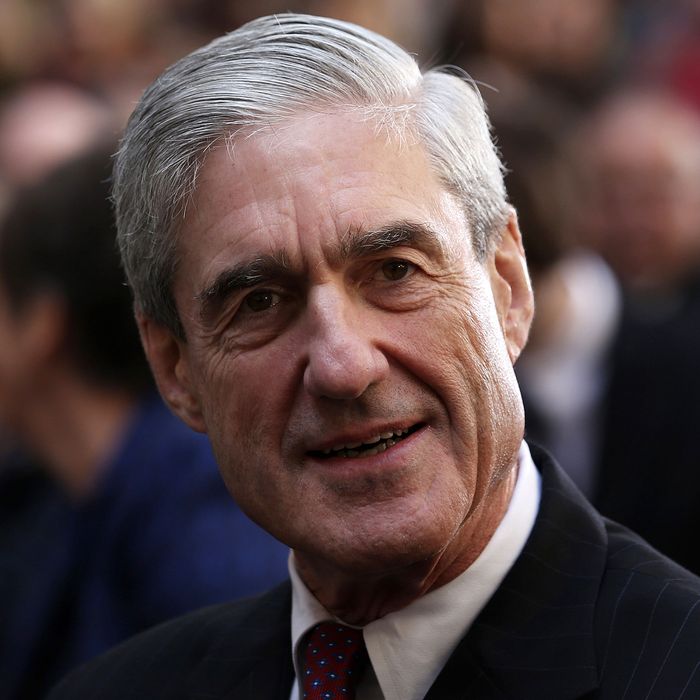 What's that I see?
Photo: Alex Wong/Getty Images
In Jane Mayer's definitive profile of Christopher Steele, the veteran British spy who compiled a controversial dossier documenting Donald Trump's alleged ties to Russia, and then some, there's a curious line attributed to the reclusive agent, who has gone into hiding since his investigative findings have made him the target of Republican recriminations: "It was as if all criminal roads led to Trump Tower," Steele is quoted saying.
Through the first ten months of his investigation, Robert Mueller's interest in the headquarters of the Trump Organization seems to have been limited to Donald Trump Jr.'s meeting, alongside Paul Manafort and Jared Kushner, with a motley crew of Russian characters who claimed to have damaging information about Hillary Clinton. But now the special counsel has trained its sights on the business proper: The New York Times reported on Thursday that Mueller has subpoenaed Russia-related documents from the organization — which may include everything from emails to visitor logs to financial records to contracts the company entered into, all going back several years.
The Times doesn't specify the breadth of the subpoena, but it wouldn't be surprising if Mueller is interested in specific sensitive records related to Trump's long-held desire to grow his real-estate empire in Moscow. Mueller's team has already asked witnesses about those plans — among them Felix Sater, an estranged Trump associate who knows better than most about the president's interest in Russia. "First thing I plan to do when Trump leaves office, whether it's next week, in 2020 or four years later, is march right into his office and say, 'Let's build Trump Moscow,'" Sater told BuzzFeed News recently.
Unlike a sit-down with Trump, which Mueller is still trying to negotiate with his legal team, subpoenas are nonnegotiable and extremely hard to quash. The Trump Organization has already turned over documents requested by congressional investigators, but Mueller's request is likely far more focused than those of his counterparts on Capitol Hill, who made theirs back in the summer and are yet to produce anything of substance. Trump has warned that any snooping by the special counsel into his business dealings would cross a red line, but Mueller doesn't seem to care. He's going to get the documents he needs whether Trump likes it or not. This is business as usual for him.