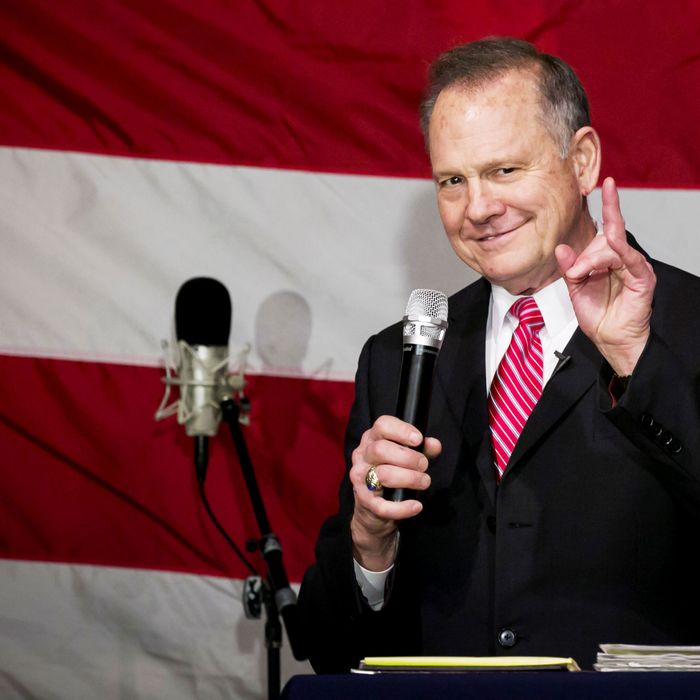 Brother, can you spare 250k?
Photo: Nicole Craine/Bloomberg via Getty Images
Remember Roy Moore, the Alabama fellow accused of sexual assault by multiple women when they were teenagers, who also came within 1.5 percentage points of becoming a U.S. senator back in December?
In a Facebook message to his supporters, Moore revealed that any wounded pride at losing to a Democrat in Alabama is the least of his problems. Moore is facing a defamation lawsuit from Leigh Corfman, who upended the senate race when she accused Moore of sexually touching her in 1979, when he was 32 and she was 14.
As the Washington Post notes, her lawsuit is "part of an emerging legal strategy of litigating sexual misconduct claims through civil lawsuits when the statute of limitations has expired for criminal charges." Corfman claims that some of Moore's statements denying her allegations, like those alleging she was politically motivated, were defamatory. She is not seeking financial compensation — merely a judgment, an apology from Moore, and a guarantee that he will not defame her again.
Moore, using the incendiary style he honed as Alabama's Chief Justice of the Supreme Court, framed his legal battle as a left-wing plot to take him down, while managing to include a healthy dose of homophobia in his message.
After thanking his fans for standing behind his senate campaign against "insiders who did not want me to bring the truth about God and our Constitution to Washington D. C.," Moore writes that "I now face another vicious attack from lawyers in Washington D. C. and San Francisco who have hired one of the biggest firms in Birmingham Alabama to bring another legal action against me and ensure that I never fight again. However, I will trust God that he will allow truth to prevail against the unholy forces of evil behind their attack."
Later, he says: "Gays, lesbians, and transgenders have joined forces with those who believe in abortion, sodomy, and destruction of all that we hold dear. Unless we stand together we will lose our Country." And he singles out Barack Obama, Hillary Clinton, and (naturally) George Soros as among the people who have tried too block his righteous path.
Moore never actually conceded the race to Doug Jones, instead preferring to go after Jones's gay son (see a theme here?) and whining about a conspiracy against him, as is his way.
He has reportedly been soliciting donations since January, when Corfman's lawsuit was filed, and, as of this writing, is only at $32,000 of the $250,000 he's seeking. Perhaps demagoguing works better before blowing a race that literally any other Republican would have won.