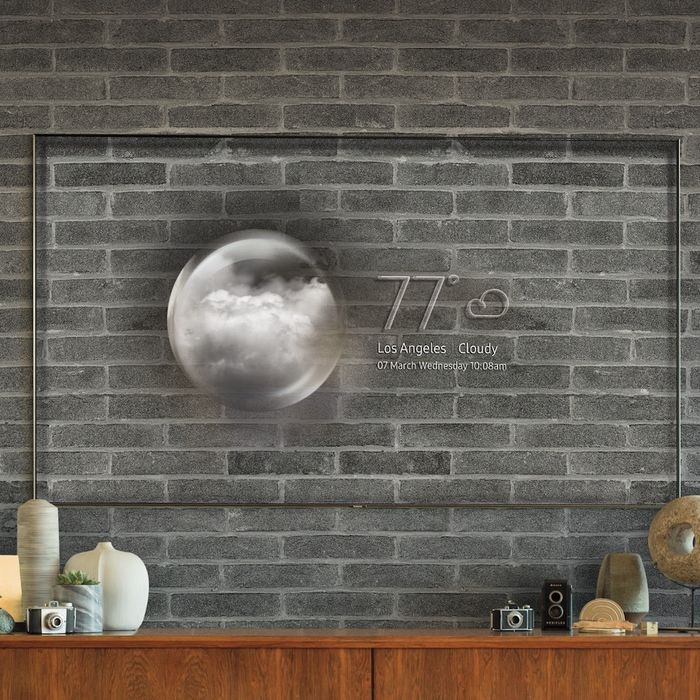 Across the board, expensive TVs provide you with very, very good picture quality. Even relatively cheap sets sport 4K and HDR. In other words, it's a buyer's market. So what can a brand like Samsung — still the top TV manufacturer in the world — do to convince consumers to spend four figures on a high-end TV set?
How about an invisible TV?
Okay, not quite invisible. But close. "Ambient Mode," which rolls out with every new model in Samsung's QLED line in 2018, was shown off for the first time today at a Samsung event here in Manhattan. It allows your TV to seamlessly, chameleonically blend in with a part of your wall when you're not using it. And for a certain type of buyer — someone with strong opinions about the current Roche Bobois versus Restoration Hardware offerings — it's going to make Samsung QLEDs suddenly a very compelling option indeed.
The trick of Ambient Mode is, at heart, pretty simple. You mount your TV and snap a few pictures of your wall with your smartphone. The Samsung SmartThings app then matches your wall, whether that's your particular shade of paint, wallpaper, or exposed brick, and then matches that up on the TV's screen. Hey, presto, your TV suddenly becomes transparent.
It's an optical illusion, but it works. Your TV looks like a hanging pane of glass with pencil-thin bezels. Some extra touches, like sensing room lighting and some ersatz shadows hanging off the bezels and display fonts, complete the illusion. If you get up close, your depth perception kicks in and you'll see that what you thought was the wall is actually a TV screen, but even from a foot or two away, the effect is remarkable.
You can choose to leave it blank for that glass-pane effect, throw up "living wallpapers" that blend an image in with the texture and color of the surrounding wall, set up something to display the time and temperature where you live, or rotate through photos or paintings. Your TV stops being a big, black rectangle of nothing on your wall when you're not using it — it just becomes part of your wall. (Samsung didn't talk about how much power draw Ambient Mode uses when in use, though said it's lower than when the TV is in active use.)
Samsung has been experimenting with TV sets that don't look like TV sets for a few years now. The Samsung Serif series was a TV, built in collaboration with MoMA and the Bouroullec Brothers, where the set served as design object, a mid-century anchor point that shifted the TV from boring flat panel to conversation piece.
Its Frame series was even more successful, using a matte finish and wooden bezels to make a TV that could seamlessly shift from high-end art-display frame to something that let you watch the Knicks. (For pure aesthetes, I'd still recommend the Frame above all else — that matte finish makes it a TV that you could easily mistake for a piece of hanging art when not watching Netflix.)
Ambient Mode is part of a host of other innovations that Samsung is rolling out this year. There's the catchily named "One Invisible Connection," a slim cable that works as both power cord and HDMI cable, allowing you to hang your TV on the wall and have just a sliver of cord coming down, and tuck your nest of HDMI connections into a box up to 15 meters away. (No more boring holes in your wall to avoid that ugly kraken of cables snaking to your wall-mounted set.) There's also a more general bundling of a lot of Samsung's disparate smart-home options under the SmartThings app, which will live on your phone, your TV, and other Samsung devices.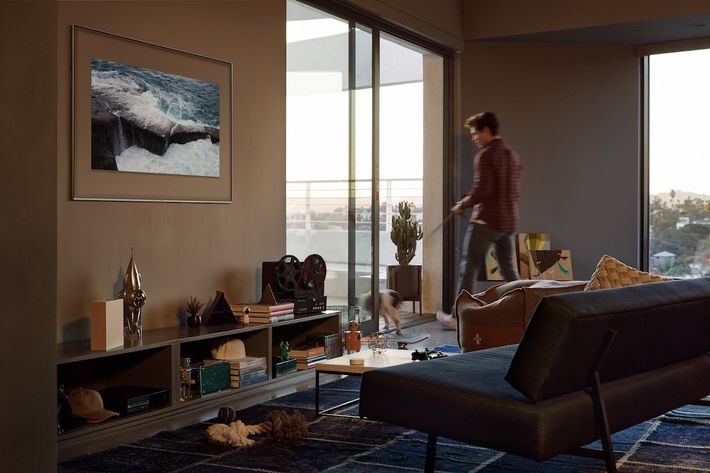 If you know the difference between a nit and lumen, you can quibble visual fidelity of LG's OLED panels versus Samsung's QLED screens, but to my eyes, Samsung's top-tier sets can stand toe-to-toe with what LG is putting out, and its entire QLED lineup, from the entry-level Q6 to the mid-tier Q7 and Q8, looks fantastic. Of course, none of this is cheap — a top-tier 65-inch Q9F set will set you back $3,800.
But Ambient Mode's chameleon-esque ability to blend in with your wall is, for me, much more interesting than small differences in peak brightness or viewing angles. After the flat-panel TV debuted, TV-set design has largely remained the same. Sure, TVs have gotten thinner, slimmed down their side bezels, increased in screen size, gone 4K, and added HDR, but as a purely physical object, a turned-off TV made in 2008 looks a lot like a turned-off TV made in 2018. Ambient Mode represents a way forward, turning your TV into a part of your wall when not in use. It's mostly just a simple magic trick, but it's a good one; I wouldn't mind seeing it performed in my own home.