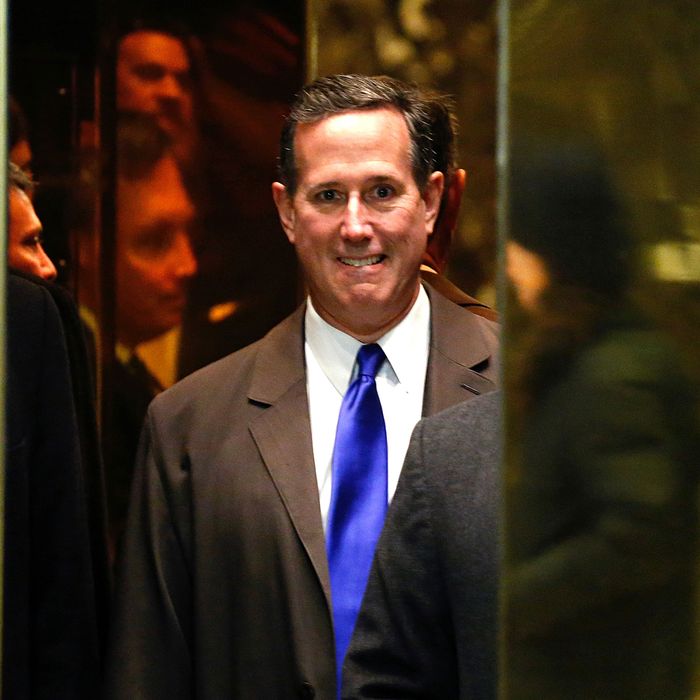 All about emergency resuscitation.
Photo: Kena Betancur/AFP/Getty Images
CNN contributor and former Pennsylvania Senator Rick Santorum offered an impressively wrongheaded criticism of the teenagers behind Saturday's enormous March for Our Lives protests. The problem, he posited, is that they're focused on preventing shootings instead of preparing for the grim aftermath of gun violence.
Speaking on State of the Union Sunday morning, the Republican singled out "Hollywood elites and liberal billionaires" for funding the march, which he claimed focused on politics at the expense of real-world solutions.
"How about kids, instead of looking to someone else to solve their problem, do something about maybe taking CPR classes or trying to deal with situations that — when there is a violent shooter that you can actually respond to that," he said.
The idea was met with immediate pushback from host Brianna Keiler, who countered that the kids had taken action to solve the problem at hand.
But Santorum didn't back down, reiterating that the mass-shooting survivors were going about everything the wrong way.
"They took action to ask someone to pass a law," Santorum said. "They didn't take action to say, 'How do I, as an individual, deal with this problem? How am I going to do something about stopping bullying within my own community? What am I going to do to actually help respond to a shooter?'"
At least one prominent march organizer took note of Santorum's comments.
As morbidly risible as Santorum's opinion is, it doesn't really diverge from the mainstream Republican position on guns. On the right, it is an article of faith that gun violence in America is inevitable, regulations be damned. (The mountain of evidence showing that America is an extreme outlier in this arena precisely because of its lax gun laws is ignored.)
The best Americans can do, in this grim view of society, is concentrate on mental health — though, of course, Republicans actually want to do the opposite of that — and prepare for the unavoidable rampages by arming teachers, conducting mass-shooter drills, and otherwise assuming a posture of soldier-like readiness. Anything, that is, except restrict access to firearms.
Santorum has never had a reputation as a refined intellect, and his version of this sentiment may be clumsier than others. But he is no outlier.