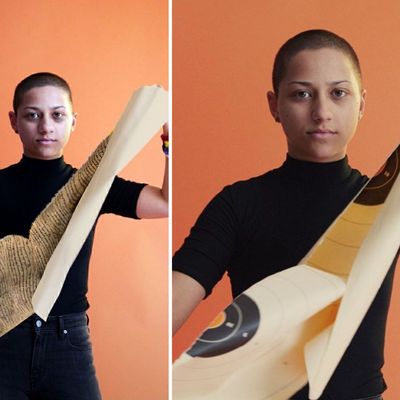 The doctored image of González tearing up the Constitution, alongside the original
Teen Vogue
image on the right.
Photo: Twitter/Teen Vogue
Doctored images of Parkland shooting survivor Emma González, which appear to show her tearing up a copy of the U.S. Constitution, have been making the rounds in some circles of the American right over the weekend. The fakes were based on an image and GIF from a Teen Vogue feature on González and her classmates that showed her ripping up a gun-target poster. The color of González's face was also changed in the fake photograph to create dark circles around her eyes.
It's not clear where the fake images originated or how widely seen they have been. The image and GIF appear to have been posted together, with racist file names, in a political thread at the infamous troll haven 4chan on Saturday afternoon. The images were then eventually shared by some popular figures on the right, including the actor and conservative commentator Adam Baldwin in a now deleted tweet: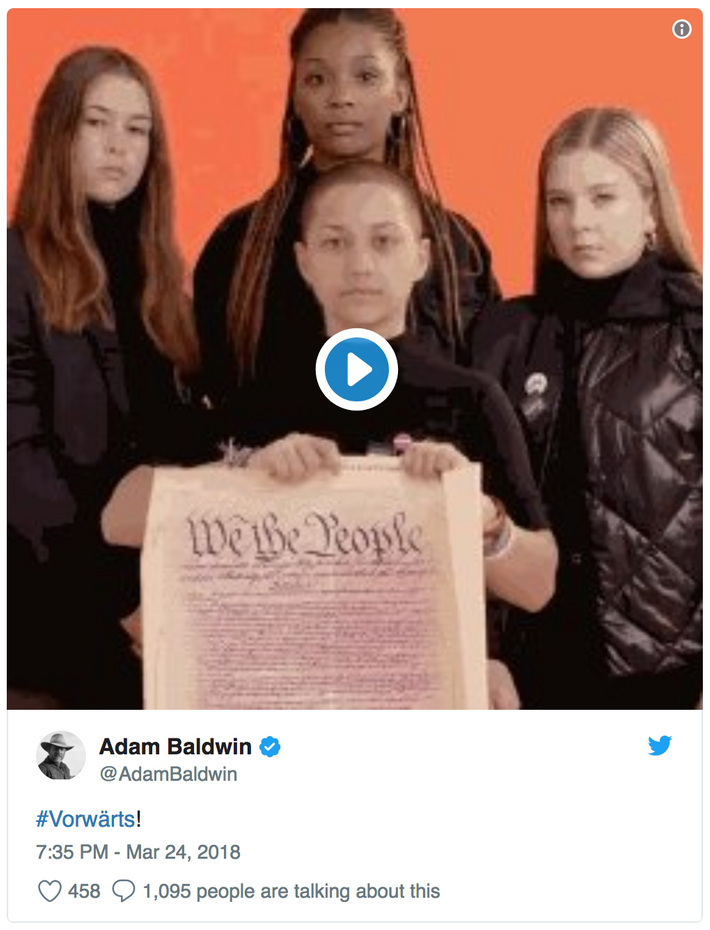 Baldwin subsequently defended the doctored GIF as "political satire." Another post sharing the image in the SJWHATE subreddit on Saturday claimed that "This is the Left."
The fake images were originally flagged on Twitter by Don Moynihan, the departing director of the La Follette School of Public Affairs at the University of Wisconsin-Madison:
In his corresponding thread, Moynihan pointed out that it was impossible to know if the Twitter user who he originally saw post the image was, as their username suggested, a real NRA supporter, or, perhaps, a bot being run by Russian trolls or someone else. (That user was later suspended by Twitter, suggesting the account was a bot.) Others have rightfully pointed out that the falsified images are also a good example of the kind of information warfare that has recently infected American politics.
In less than a month and a half, Emma González has quickly become one of the country's most outspoken and admired advocates for gun control. Just days after surviving the mass shooting that killed 17 people at her high school in Parkland, Florida, the teenager gave an impassioned speech against the nation's weak gun laws and the NRA that quickly went viral. Along with some of her Stoneman Douglas classmates, she then helped found the gun-control advocacy group Never Again MSD, and helped organize and lead Saturday's worldwide March for Our Lives rallies. González even delivered one of the most powerful speeches at the main rally in Washington, D.C., remaining silent for several minutes after listing the names of those killed in Parkland.
Unfortunately, González and her classmates' outspokenness has also made them a target for criticism and ridicule by some on the right, as well as subject to death threats and conspiracy theories.