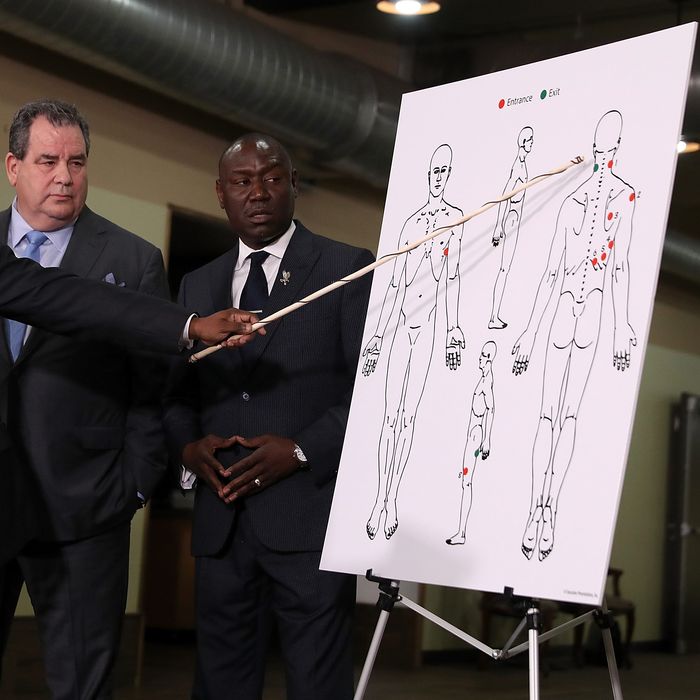 Dr. Bennet Omalu said Stephon Clark took up to ten minutes to die.
Photo: Justin Sullivan/Getty Images
Stephon Clark, the unarmed black man killed by Sacramento police in his grandmother's backyard earlier this month, was shot eight times, with most of the entrance wounds coming from behind, according to a doctor hired by his family.
Shot at more than 20 times by two members of the Sacramento Police Department, Clark was hit by eight bullets, Dr. Bennet Omalu said. Four of the bullets hit Clark in the back, two of them hit him in the neck, and the final two hit him in the leg and under the armpit. Omalu, known for discovering CTE in the brains of football players, said it took Clark three to ten minutes to die.
"These findings from the independent autopsy contradict the police narrative," the family's lawyer Benjamin Crump said in a statement. "From the time this investigation began, statements provided by the Sacramento Police Department have proven to be self-serving, untrustworthy, and unreliable. This independent autopsy affirms that Stephon was not a threat to police and was slain in another senseless police killing under increasingly questionable circumstances."
The day after the March 18 shooting, the SPD explained that Clark was shot because the officers, who found him in his grandmother's driveway, thought he was pointing a gun at them. "Fearing for their safety, the officers fired their duty weapons striking the suspect multiple times," a statement said. But police found no gun after killing Clark. But they did find an iPhone.
The Sacramento County Coroner's office hasn't released its own medical report because it hasn't yet written one, Capital Public Radio reports.
The independent autopsy will do little to quell the anger in Sacramento, where protesters have been a near-constant presence since Clark's killing. They have interrupted City Council meetings, blocked people from attending NBA games, and shut down traffic on highways.
On Thursday, a wake was held for Clark at Bayside of South Sacramento Church. Three hundred mourners were on hand to hear the Reverend Al Sharpton speak and lead those assembled in a chant of Stephon Clark's name.