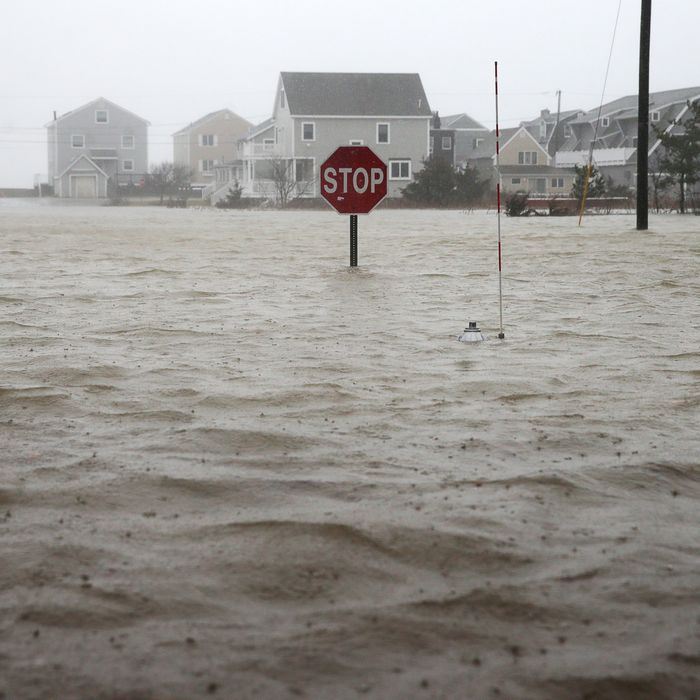 Scituate Avenue in Scituate, Massachusetts, is flooded during a nor'easter storm on March 2, 2018.
Photo: Jonathan Wiggs/Boston Globe via Getty Images
Wind, rain, sleet, and snow hammered the East Coast on Friday, as a nor'easter spread from North Carolina to Maine, flooding coastal areas and drawing a dire warning from the National Weather Service.
"Take this storm seriously! This is a LIFE & DEATH situation for those living along the coast," the National Weather Service in Boston said in a tweet.
Like the storm that lashed the East Coast just after New Year's, this one has undergone "bombogenesis," which happens when pressure falls by 24 millibars in 24 hours. The so-called "bomb cyclone" has knocked out power to more than a million Americans in the Northeast, mid-Atlantic, and Midwest and is visiting different horrors on different parts of the East Coast.
The mid-Atlantic, where one local fire department warned of "#Windmageddon," has been ravaged by gusts of up to 80 miles per hour.
Meanwhile, upstate New York is getting hammered by snow, leading Governor Andrew Cuomo to issue a travel advisory for "all areas north of New York City." By Friday afternoon, some parts of New York had seen 24 inches.
"Heavy, wet snow fell overnight and snow will continue into the evening hours tonight," Cuomo said in a statement. "Snow will turn dryer and lighter and combined with strong winds, will cause dangerous conditions making driving extremely hazardous from blowing and drifting snow."
The Boston area experienced the worst of the storm, as storm surge flooded many coastal towns. Flooding first hit in the late morning Friday, when massive waves crashed into towns such as Scituate and Hull, filling the streets with seawater.
Boston Harbor is being watched closely as tonight's high tide approaches. Forecasts currently call for water levels to reach 15.4 inches, which would surpass the all-time record high set in January. As the Washington Post notes, if those forecasts are accurate, there will be problems:
In Boston, a water height above 14.5 feet leads to significant flooding of low-lying coastal areas from Revere through Hull, including the Seaport District. Numerous homes will be flooded and road closures and evacuations of coastal sections are likely, according to the National Weather Service.
"We expect to lose homes during this storm," Kurt Schwartz, director of the Massachusetts Emergency Management Agency, said Friday.