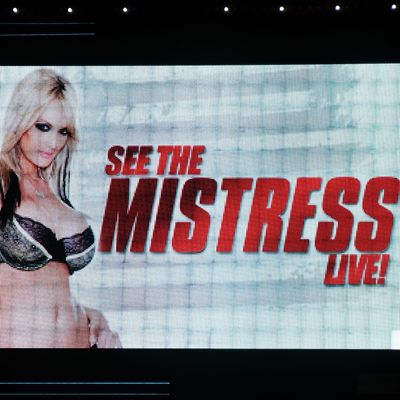 A Las Vegas billboard advertising the porn star who seems to be running circles around the reality star in chief.
Photo: Ethan Miller/Getty Images
A running gag in political journalism is that all the bombshells drop late on a Friday, by the time most reporters are done for the week and our public servants and institutions are expected to be done making news. And sure enough, last week the Trump administration sent shockwaves through Washington with the late-Friday firing of Andrew McCabe, a former deputy of dismissed FBI director James Comey, mere days before he was set to enjoy what he calls his "long-planned, earned retirement."
Planned or not, the upheaval that followed McCabe's dismissal effectively buried what could soon become the most significant arbitration dispute in all of American history. That same evening, Donald Trump — through Charles Harder, the lawyer best known for helping Peter Thiel put Gawker out of business — attached his name to a court filing that, for the first time, linked him to Stephanie Clifford. The woman, better known in the adult-film industry and now the world of politics as Stormy Daniels, was fighting for her right to be ungagged — to speak freely and publicly about an affair she had with Trump over a decade ago, while he and his third wife Melania were awaiting the birth of their son Barron.
But before Harder filed that document in federal court last week, Trump was nowhere to be seen. The White House had denied any sexual encounters ever happened, the president was uncharacteristically silent about Clifford on Twitter, and his other lawyer and perennial fixer, Michael Cohen, had repeatedly denied that his client had anything to do with her. No more: "Mr. Trump intends to pursue his rights to the fullest extent permitted by law," Harder wrote. By which he meant that Trump intended to seek enforcement of a non-disclosure agreement, to the tune of $20 million, that Cohen had made Clifford sign less than two weeks before the 2016 presidential election. In exchange for her silence, Clifford accepted $130,000 from Cohen, who reportedly took out a home-equity loan to execute the payoff. Because who amongst us hasn't done that at some point.
A cruel irony of this "hush agreement," as Clifford put it in her own lawsuit seeking to free herself from it, is that it was signed on October 28, 2016 — the same day Comey, in a letter to Congress, may have cost Hillary Clinton the presidential election. The volatility of that political moment lends credence to Clifford's charge that Cohen, in concert with Trump and his campaign, "aggressively sought to silence Mr. Clifford as part of an effort to avoid her telling her truth, thus helping to ensure he won" the presidency, according to court papers her lawyer, Michael Avenatti, filed in a Los Angeles county court. That opens up another front for the already legally beleaguered Trump: If there's any truth to this coordination, and the Federal Election Commission substantiates it, the unreported hush money may have well violated campaign finance laws.
Cohen, for his part, has insisted that he just did this to help out a longtime client, benefactor, and friend. "People are mistaking this for a thing about the campaign," Cohen told Vanity Fair this week. "What I did defensively for my personal client, and my friend, is what attorneys do for their high-profile clients. I would have done it in 2006. I would have done it in 2011. I truly care about him and the family — more than just as an employee and an attorney." But do friends really take out home-equity loans, create shell companies in Delaware, use fake names, and draw up legally dubious, if not wholly unenforceable, NDAs to force someone else's silence? For all we know, Cohen could even lose his New York law license for engaging in such shady tactics.
The brilliance of Clifford's legal and public-relations moves, including this Sunday's long-awaited interview with Anderson Cooper on 60 Minutes, is that they outmaneuver Trump at every turn — which may explain his own reticence about the whole thing since the Wall Street Journal blew the lid off it in January. In a wide-ranging article exploring the seven-year saga, there's a fantastic quote attributed to Cohen, whom Clifford is accusing of breaching the hush agreement because he himself confirmed its existence to the press. "I didn't fucking breach it!" Cohen is said to have yelled, according to the Journal, sounding every bit like any concerned friend would.
Clifford has got her share of friends, too. Men and women of good conscience are coming forward to her aid. In a crowdfunding page she set up to help offset her legal fees, nearly 9,000 people have pledged close to $286,000 to support her cause — what she deems a quest "to speak honestly and openly to the American people about my relationship with now President Donald Trump and the intimidation and tactics used against me." Perhaps to assuage concerned family men who may be worried her name may appear on their credit card statements, Clifford clarified that only the name of the crowdfunding site would appear: "There is no reference to Stormy Daniels or Stephanie Clifford."
When all is said and done, Avenatti may even agree, if he hasn't already, to do this pro bono. The media-friendly lawyer has become a celebrity of sorts since the scandal broke — late on Thursday, he teased his client's upcoming cable appearance by tweeting out a mysterious image of a CD, as if to suggest that there's documentary evidence of Trump's tryst with Stormy. "If a picture is worth a thousand words, how many words is this worth?????" Avenatti wrote on Trump's favorite medium. In a quick call with New York on Friday, Avenatti said Clifford's 60 Minutes interview will help to dispel many misconceptions about the woman he represents. "I hope the American people will know a lot about my client," he said. "How smart she is. How comfortable in her own skin she is. And how credible she is." Unable to bury the story any longer, Trump may even tune in himself.