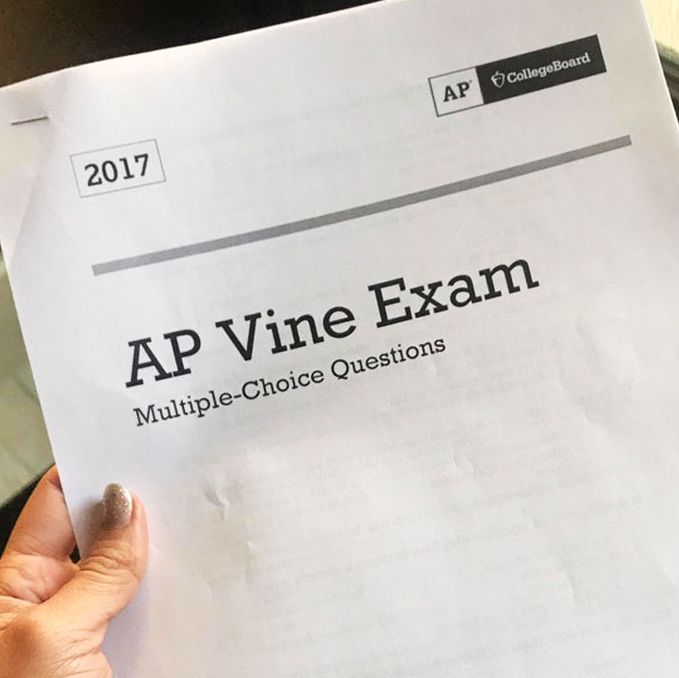 Photo: @hayleyroettger via Twitter
When Hayley Roettger told her friend, Karan, that she was absolutely "Vine cultured," she never expected that he'd come back with a full-on Vine AP exam to make her prove it. Karan, however, immediately knew that he'd have to test her knowledge. "She brought up how she was a 'Vine god,' so I nodded my head and I knew that I was going to create a test," Karan told Select All. Roettger's tweet about the test quickly went viral. "It took around two hours, and my process included just the Vines I knew from the top of my head," Karan, who calls himself a "Vine demigod" said. "Then I just searched famous Vines and watched a few of them to get inspiration to create questions." He wasn't sure exactly how many questions Roettger got right — the exam included 43 multiple-choice questions and several free responses — but "she got a five for sure." Karan posted the exam on Twitter — complete with a "Karan Board" logo as a stand-in for College Board — with an answer key. We've laid out the questions below (reproduced as they appear on the original test), so you can test your knowledge and see if you, too, are a Vine god.
The AP Vine Exam
Test your Vine knowledge.